In the tenth episode of The Bachelorette, Kaitlyn narrows the competition down to just two men, and things begin to get heated after emotional meetings with families.
In the midst of their conversation, Nick calls Shawn out on a discussion that apparently happened between the guys off-camera. Apparently, Shawn had bragged about an occurrence that happened before the show in which he became "eskimo brothers" with a country singer, because they had sex with the same girl in the same night. We don't have any context about this supposed incident other than Nick's accusations, but Shawn's not outright denying anything.
It definitely gives us some perspective into the idea that maybe Shawn isn't as dreamy of a guy as Bachelorette nation seems to think he is.
via i.imgur.com
One-On-One: Ben
After this new information about Shawn, Ben looks even better to us than he already did. It's because Ben isn't concerned with the petty drama between Shawn and Nick, and Kaitlyn knows that. She repeatedly says Ben is clearly not the "player" type of guy at all — something we're all a little concerned that maybe Shawn is after these new accusations surface.
The two go horseback riding, have a picnic and spend the night in a fantasy suite castle. It's clear they had fun, and the date went well. Ben is definitely a good guy, but to me, something about him is just a little off. It may just be the way the show is edited, but he doesn't seem to have any substance to him. He's clearly a genuine guy and would make a great boyfriend, but I don't know enough about him — and I'm not sure Kaitlyn does either — to run off hand-in-hand with him when the season is over.
One-On-One: Shawn
Kaitlyn and Shawn's fantasy suite night begins with golfing. Kaitlyn wins (you go girl!) and then decides it would be fun to play a post-golf game of truth or dare. There's only one dare, and it's for Shawn to streak around the golf course.
You'd think this would be extremely awkward, but Kaitlyn runs away with his clothes and we get to see Shawn's body — minus the big black box in between his legs — streak in broad daylight in the middle of a golf course. It's actually kind of cute. What a date.
via ak-hdl.buzzfed.com
Well that was fun! Now, who wants to see Nick naked? Anyone? *crickets chirping* #TheBachelorette — Ava Wickham (@AvaWickham) July 14, 2015
After Shawn gets some pants back on, Kaitlyn has to bring up this "eskimo brother" thing. She cuts him off when he tries to explain the situation in his defense (darn!). But Shawn is FURIOUS Nick told Kaitlyn about it last episode. So, that's a fun way to begin their romantic night together: feeling angry about Nick.
Nick is literally waiting for Shawn when he walks out of Kaitlyn's place the morning after their fantasy suite night (they REALLY like confrontations, apparently).
via ak-hdl.buzzfed.com
Shawn doesn't want anything to do to him, but he eventually AGREES to sit down and hear Nick out on whatever Nick wants to talk about. Once they actually come head to head, Shawn drowns out EVERYTHING Nick says. He's so insecure that he won't give Nick the time of day or listen to a single thing Nick has to say.
I hate to admit watching #thebachlorette but why are people rooting for Shawn?!Possessiveness is a textbook red flag! #teamnick @NickViall1 — Monica Clark (@monicamclark) July 14, 2015
Rose Ceremony
Kaitlyn sits down with host Chris Harrison to talk about her feelings with the guys. She talks about advantages and disadvantages to Shawn and Nick; she loves the passion she and Nick share, but isn't sure if she can see long-term with him. And she's crazy about Shawn, but says his jealousy issues are her biggest concern about him.
When she talks about Ben, she says she has an amazing time when she's with him, he's sweet and he's everything on her checklist. So naturally, he doesn't receive a rose.
via ak-hdl.buzzfed.com
As expected, Ben takes it like a robot. They sit down while Kaitlyn tears up like a human being and Ben just sort of says everything he's supposed to say. He looks genuine on TV, but I just can't get over the fact that he doesn't seem like a real person.
Even though Nick was in the final two last season and picking the two guys who despise each other the most to be the final two is a risky decision, I don't blame Kaitlyn for letting Ben go. But then again, I would have kept Jared around longer than Ben, anyway.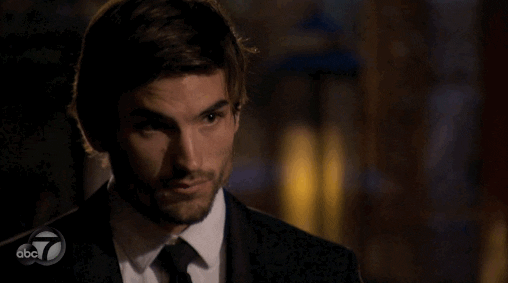 via giphy.com
Hometown Dates… Sort of?
Nobody's really sure where these "hometown dates" take place. In past seasons, the Bachelor or Bachelorette visits the final threes' hometowns where they meet at their childhood house, talk to extended family and see what their home life is like. For whatever reason, the "hometown dates" this season are meeting random members of the final two's families in a big hotel room in… Utah.
Hometowns in Utah just don't feel like hometowns. #TheBachelorette — T.A. Foster (@TAFosterwriter) July 14, 2015
Nick has been through the "hometown date" before on Andi's season, so we know his family a little. He has lots of brothers and sisters and a mom who cries a lot thinking about how heartbroken Nick was after last season and worries that it'll happen to him again.
It seems to go actually go pretty well, though — Nick's youngest sister, Bella, grills Kaitlyn with questions, asking first "How is Vancouver?" and then, "Do you love my brother?"
via searchlaboratory.com
It's pretty sad, too, because his family is really nice and really don't want to see Nick get hurt — but Shawn's hometown seems to go a little more naturally.
Although Shawn's mom "couldn't make it" (question of interest?), Kaitlyn seems to fit right into the rest of his family. After though, Kaitlyn heads back to her hotel room alone, and she cries a lot because she's torn between the two of them.
I think we all know who the front-runner is, though.
via giphy.com
The Bachelorette airs Mondays at 8 p.m. on ABC.
@rachel_hartwick
rh375113@ohio.edu