Here are six movies to watch before you're too full to press play on Turkey Day.
By looking at the title of this post, you may be asking "What the hell is a Thanksgiving movie? Do they even exist? Have I been missing out all my life?" The answer is YES!!! These movies may not embody everything about Thanksgiving, but they will make you want to get up, make some pies and stuff your face until you can't breathe. So, sit back, relax, and eat three pounds of mashed potatoes and enjoy these movies:
1. Addams Family Values
This film may feature the Halloween freaks, the Addams, but when Pugsley and Wednesday go to Camp Chippewa, they put on a play that would make the Pilgrims blush and run away. There will be lots of turkey, death and fire just like the real first Thanksgiving.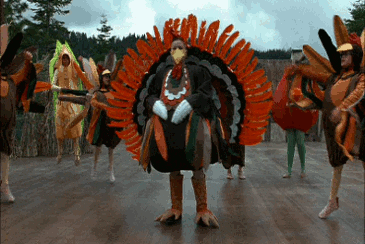 via giphy.com
2. Paul Blart: Mall Cop
On the eve of Black Friday, Paul Blart (Kevin James) battles truth, justice and some evil gang members in his mall. Watch him and his trusty Segway float around the halls of the mall and defeat the gang from stealing Christmas gifts from the stores and away from children. A great movie to put on as background noise as you map out your Black Friday plans.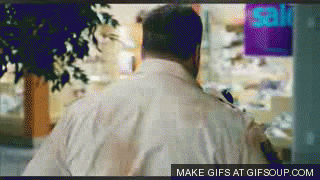 via giphy.com
3. A Charlie Brown Thanksgiving
This may be cliche, but it's a classic. Watch your favorite Peanuts characters on their trials with love, friends and family. Even see good ol' Charlie Brown try to kick the football with Lucy. Classic!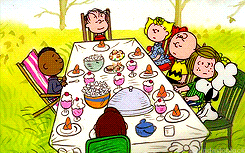 via giphy.com
4. ThanksKilling
This movie follows a group of rowdy kids on their Thanksgiving break while there is a sadistic turkey on the loose trying to kill them. This movie is cheesy and awful, but it's fun if you watch it with a huge group of your old high school buddies.
via giphy.com
5. Planes, Trains and Automobiles
This is the best Thanksgiving movie ever. It's a classic John Candy and Steve Martin movie that follows the two trying to come home for Thanksgiving. There's a lot of laughs and a lot of dumb jokes, but that's what makes it great. Plus, John Hughes directed the movie, so it has to be good.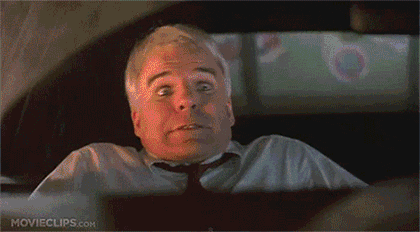 via giphy.com
6. Hannah and Her Sisters
Directed and written by Woody Allen, this films follows the lives of three sisters and their journey throughout two years, all starting at Thanksgiving dinner. With a star-studded cast and a great, vintage feel you only get from '80s movies, this film will make you laugh and cry. But overall, it will make you appreciate the family you have.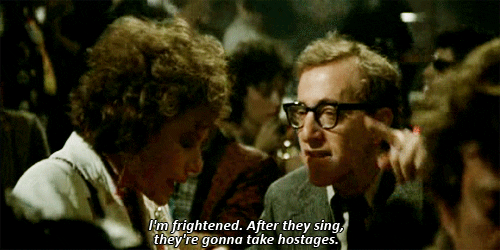 via giphy.com
So, grab some stuffing, gravy and leftover beer and enjoy these films before — or after — Thanksgiving and get yourself into the holiday spirit.
@wintuck
hw333514@ohio.edu