Twelve teenage designers create New York City-inspired looks for the first challenge.
When Lifetime made the announcement that Project Runway Junior was on its way, the initial reaction was not necessarily a positive one. The stigma of reality TV came to mind in that it's similar to candy: It's good in moderation, but too much can give you a toothache.
The idea of 12 adolescent designers running around screaming while creating outfits immediately came to mind, and it looked as if I was going to be eating candy for dinner every Thursday night.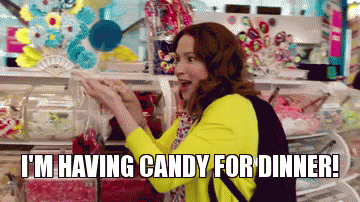 via giphy.com
However, after the premiere of "Welcome to New York" I was proven wrong. The bratty kids I thought I would be rolling my eyes at were smart, motivated, mature and incredibly talented.
The challenge is to create a good "first impression" for the judges that is New York inspired. Many of the designers are from small towns, and it is their first time being in a big city let alone New York. They were able to take a picture and sketch.
The 12 make their first trip to Mood, and they all freak out from excitement. Each of them have $200 to create their look and Tim Gunn kindly reminds them not to lose their money. Tim has already assimilated as their father. Goodbye past families.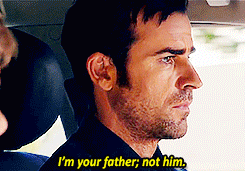 via giphy.com
They enter the workroom and Matt, 17, compared it to the wonder of Willy Wonka's Chocolate Factory. That's how in awe these kids are, and it's so wonderful to watch. There's too much perfectness going on already.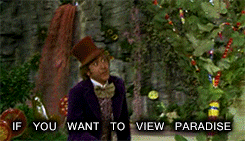 via giphy.com
When Tim comes in for critiques, many designers have taken on the skyline as inspiration.
One of the designers, Maya, is 13 years old, which makes me question every life choice I've ever made. The oldest are Ysabel, Matt and Victoria at 17 years old.
Maya redesigns her top, and Tim says he usually hates that kind of purple, but he really likes what she did with it. Zachary, 16, works really fast, which intimidates Maya since she is the youngest.
Samantha's style is androgynous, and Tim says it's brazen and edgy. Her style makes me uncomfortable, but I don't want to shoot it down completely.
Zach, 15, keeps second guessing himself with a hot pink dress. The corrections Tim has for him will not be done in time.
Tim comes over to Matt's workspace and asks how he is. Matt, 17, says he great now that he's in "the presence of a god," and Tim actually blushes.
Jaxson, 15, didn't have too much to show Tim, but his vision was crystal clear with colored strips for a skyline within a skirt.
Victoria, 17, is another designer that makes me uncomfortable, but it's just because her style is gothic and unconventional. She has a lot of ideas, but most of them are within the black, pleather spectrum. She pushes the status quo though, and I guess that's something to appreciate.
The models come in for a fitting, and Samantha, 16, is pissed because her model's butt is two inches bigger than what she was told. She has to take out the detail on the side seams and is not happy about it.
Zach is barely finished with his pink dress, and Tim shouts out a piece of advice on how a shorter skirt is less work. You might've just saved that boy going home, Tim.
Sami has a royal blue dress, but is having a hard time with the skirt. It's bunched up and not flattering at all.
The runway show starts, and Hannah Davis, the host of Project Runway Junior, is basically a Heidi Klum, Jr. She introduces the judges, which is a strong panel for those youngins to learn from. Christian Siriano, is the winner of Project Runway season 4, has had nothing but success. He has a store in New York City. He designs for celebrities and will be the hardass judge on the show. His personality has hardened since he debuted on the show.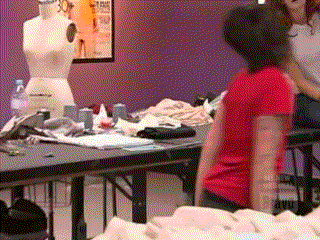 via i721.photobucket.com
Kelly Osbourne is pretty blunt, but fun. Everything that comes out of her mouth is true, so there you have it. She is a good fashion guru to follow.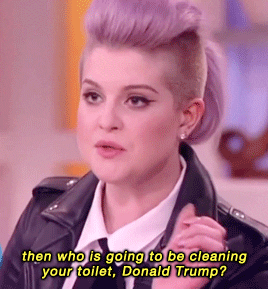 via giphy.com
Aya Kanai, executive fashion director of Seventeen Magazine and Cosmopolitan, is incredible and has an eye for youth in fashion.
Hannah Davis mentions Tim Gunn as only a mentor, but has one "Tim Gunn Save" if he disagrees with the judges. Tim then asks for 12 Tim Gunn Saves because he's so attached to them already. That is where I feel smothered in his admiration.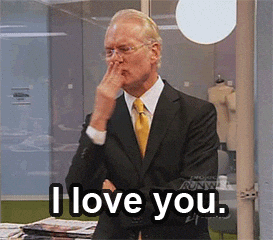 via giphy.com
After the runway show, Kelly says that was the best first challenge she has ever seen, and I agree. There is more talent on that runway than season 14 of adult Project Runway.
Matt and Zachary had scores that qualified them to move on, along with four others, and I was very happy to see them be in.
The top and bottom three are left to be critiqued when Hannah says she and the judges owe it to the designers to be honest and straightforward. The six left are Jaxson, Zach, Samantha, Sami, Victoria and Maya.
Kelly says Jaxson's outfit is wearable-chic with kitch. It's smart because the front is the daytime skyline and the back is the colored buildings at night. Christian wants a waistband with the skirt, but it was well down. Aya found his outfit rather "exciting." It's my favorite. The top and bottom are so clean and modern.
via ew.com
However, Aya thought Zach's dress was a little dated. Kelly praises that "big bums" are in, but Zach needed to pull in the waist more. Aya says she is still trying to figure out who he is as a designer because this dress is very been there done that. Aya mentions when the designers leave the runway that his dress does show innovation or fashion-forwardness.
via ew.com
Kelly appreciates Samantha's aesthetic, but her hemlines are a little messy. Aya loves how she was able to make that baggy outfit chic and expensive-looking. That's when Samantha mentions she only spent $43. There's raw edge that has a bit of an avant garde feel.
via ew.com
Christian dubs Victoria as the goth chick. There's glitter, leather, black, bangles, and Kelly says it's busy. There's something the judges like about though. It's odd looking, but complimentary.
via ew.com
Kelly says to Maya that her jumpsuit is her favorite of the designers. It's hard to make a jumpsuit that doesn't look wedgy or bunched up in the front and back. She's then floored when Maya tells her that she's only 13.
via ew.com
Sami says she shot for the elegance and sophistication of New York, but in the end she knew it was a bit messy in her execution. The only prayer she has is the detail in the back, and Christian appreciates Sami showing that kind of technique and vision. Aya says the skirt is a paper bag-waisted gown that adds volume where women usually don't want volume.
via ew.com
The judges announce Samantha as the winner. I get it, but I don't. Regardless, the design is fashion forward, and I don't know how they picked a winner. Those designers brought everything to the table. The stress is more apparent within those designers because they are all wide-eyed from the time constraint.
The judges decided that Sami is out. Tim tells Sami to not doubt her talents or her future.
The show gave the audience a preview of what is to come for this season, and it looks like there will be a heavy presence of tears. It'll be a great season, and my expectations have sky-rocketed.
@mmfernandez_
mf736213@ohio.edu