The Muppets do not use its celebrity guest appearances as a strength in "Too Hot To Handler."
The Muppets needs to start using its celebrity cameos in a better way. So far, the majority of them have had romantic interests with a Muppet or are just unimpressionable in general.
Kristin Chenoweth and Ed Helms were the rare ones that stuck out this season. Honorable mention goes to Liam Hemsworth as well. With more than 12 celebrities in eight episodes, the storylines do not match up in the short-lived appearances. This week had a weird spin with the reclusive Scooter and guest Chelsea Handler.
I always associated Scooter's dorkiness with his weird references to his clingy mother. It is his mother's fault he is awkward and antisocial. It is his mother's fault he paints pottery on Friday nights and sneaks out of his room after hours to watch Chelsea Lately.
He surprisingly loves Handler's sassy jokes on late night TV. So naturally when Scooter brings Handler on Up Late with Miss Piggy, he had some ulterior motives.
And COINCIDENTALLY Piggy asks Handler about her love life. She responds with how she broke off a messy relationship with a bouncer and now she just wants a lovable, nice, dorky guy with a steady job. Scooter figures out he is definitely all of those things.
He sets out to ask Handler out after the show, even though Uncle Deadly calls him a "boy toy."
via 33.media.tumblr.com
Scooter goes into Handler's trailer to ask her out, but he's so awkward. He's dancing around the topic and is having trouble on what to do with his hands. So suave. He tells her she did a great job on set (he's been complimenting her all day). He stammers, slips and falls, which is basically him being his dorky self. Regardless of the trip, Handler agrees to go out on a date with him.
I do not ship this. Anyone with Scooter is a weird concept. He's the Howard Wolowitz of The Muppets, and someone who has a book called Are You There, Vodka? It's Me, Chelsea is not the girl for him. That match isn't as comical as it was set out to be.
Fozzie goes to Kermit with the "good news" that he's going to ask Becky to move in with him. He rejoices and is oddly excited about the reasons people usually don't want to move in with their significant others: never having a moment alone again and having someone else tell him what to watch on TV.
That makes Kermit nervous, seeing as Fozzie has only been dating Becky for 12 weeks, and Kermit is concerned with giving Fozzie his stamp of approval before they move in together. Naturally, they do a double date at trivia night so Kermit can hang out with her.
At Rowlf's Tavern for trivia night, Becky, Fozzie, Denise and Kermit compete to win a bucket of beer, and they're all pretty into it. Rowlf is hosting the trivia night, and after every question, Becky goes under the table sneakily with her phone. Kermit is convinced she is looking up the answers with her phone because after she pops up from under the table, she magically has the answer. This trivia night is pretty flat after "Pig Out," where The Muppets go on a karaoke rager with Ed Helms.
via ew.com
Becky allegedly googling the answers upsets Kermit, like a lot. He reasons that if she's willing to do that to win free beer, then what else would she do. That's a pretty bad correlation. Denise tells him to zip it, stay out of Fozzie's business and be a supportive friend. So Kermit complies for now.
Scooter goes on the date with Handler and she kisses him. Scooter gets up and says he has somewhere to be. Glad ABC is really pushing boundaries when they pitched this season of "adult" Muppets. Handler waves down the waiter and asks for a turtle sundae, a milkshake and a margarita.
via www.thelittleblacksubmarines.tumblr.com
The day after, Rizzo the Rat and Pepe the King Prawn ask Scooter how the date went — with Rizzo requesting him to not skip the dirty stuff because he was born in a sewer. Scooter explains how Handler got too physical way too fast. Rizzo and Pepe wave off Scooter as stupid for leaving. He's been ignoring her texts, and the next day, she even gave him a large vase of flowers with a card saying she can't stop thinking about their "good night kiss." Scooter is not having it. This is a close second to Sam the Eagle's weird crush on Janice. Of course with the cameos, it's all in good fun, but sometimes it's hard not to take the jokes too seriously.
via hugenerd.net
Fozzie passes Kermit and mentions how he and Becky had so much fun at trivia night and how he's really glad Kermit approves of Becky. Fozzie is going to ask Becky to move in with him after they go to lunch.
Kermit tries the tactic where he is going to try and have Fozzie figure it out for himself that Becky is not good for him. Becky shows up for lunch and Kermit starts dropping hints on how she was soooo good at trivia, and he starts asking her trivia questions, but everyone around her answers the questions before she has a chance.
Kermit gets mad and then just rats out Becky how she cheats in trivia. She is super offended and then says she was bidding on a gift for Fozzie at trivia night. It was a fanny pack. The couple is pretty angry even though Kermit was just looking out for Fozzie, but they dramatically leave the TV studio.
Scooter meets up with Handler, and she goes in for another kiss. He's still not about that life. She offers to go slow and that they can talk on the phone while she is on the road for a few weeks.
The two relationship dilemmas in "Too Hot to Handler" do not balance well. Fozzie and Becky are supposed to be seriously in love, while no one knows for sure what Scooter and Handler are. Am I supposed to laugh at Handler and Scooter? At first it seemed as if Handler just wanted a hookup. First off, ew. Secondly, Handler wants to try and make it work while she's on the road, so now there's confusion if that is supposed to be a serious relationship as well.
Dr. Teeth and The Electric Mayhem are sitting in the audience while rehearsal is going on, and they gossip about Fozzie and Kermit's encounter. Of course, they all have the story wrong. Dr. Teeth explains how "the frog got with Fozzie's lady" and how Fozzie made Kermit disappear. They declare the Kermit that is on set is Robot Kermit.
via iamallybee.tumblr.com
Kermit is by the food table when he comes to terms with letting Fozzie live his own life. The Mayhem have a cookie plate with a sign that says "Free cookies for robots" to see if Kermit is actually a robot. Kermit reaches for one and then grabs a piece of fruit instead. Animal grabs and eats the cookies, shocking The Mayhem. Janice says Animal is still a beautiful soul and that explains how he always makes a fuss at bath time.
The episode cuts out from there, and the subpar jokes made me neither relieved nor sad it's over. I've said this before: The backstories are not cohesive enough to work with all of the cameos. The celebrities are there to have fun and pull some shenanigans with The Muppets. Do not leave it to them to help with character development. The celebrity leaves after one episode with some unfinished business. What happened to Nick Offerman and Janice? Ed Helms and Janice? What happened to Liam Hemsworth and Gonzo's online date? Now we have to wait on Scooter and Handler? What is with celebrities flirting with Muppets? Also, DID KRISTIN CHENOWETH EVER FIND HER WAY BACK FROM THE DESERT? Dear The Muppets, save the cliffhangers for shows like Scandal.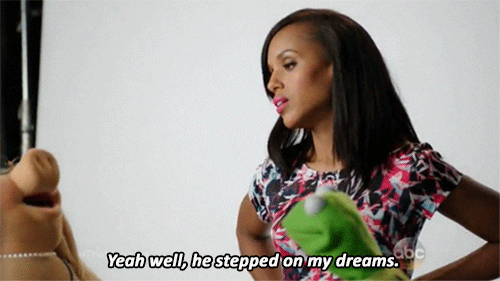 via giphy.com
Muppet MVP: The Mayhem for thinking their boss is a robot.
Rating: 2/5
@mmfernandez_
mf736213@ohio.edu