The Muppets end with open-ended questions about Piggy's and Kermit's relationship.
This week ABC had a flux of TV shows with Christmas specials: Fresh off the Boat tries to make Santa Clause have a Ph.D, Modern Family wants a white Christmas in California and everyone on The Muppets expose their fear of being alone during the holidays. It's hard to find the joy in that last one. In The Muppets' season finale of "Single All the Way," the show gives a heavy dose for viewers on how lonely the holidays can truly be.
The show opens with Animal eating all of the tinsel while decorating the tree for the Christmas special of Up Late with Miss Piggy. The episode takes place an hour until the show goes live.
Kermit does a confessional on how he loves the Christmas special every year even though it's challenging to do with his friends.
Cue Fozzie the Bear dressed up as Santa while crying in front of the kids who are there to see him as Santa. Becky broke up with him, and he tells the kids to go home because Santa needs to contemplate what the last three months of his life meant.
Sweetums gives Yolanda a Christmas present, as he was her office secret Santa. Last year Yolanda's name was left out of the mix and she volunteered to organize secret Santa this year and ended up putting her name on every slip of paper. Throughout the day, the crew gives her gifts.
Sam the Eagle hangs mistletoe under an archway backstage as a "seasonally appropriate way" to kiss Janice. He stands there basically the entire episode, to where I say good riddance.
Fozzie asks the Swedish Chef how he kept his marriage together all these years. He just kind of stares at Fozzie. Just in case you cared, Becky asked which house she and Fozzie should spend for the holidays and Fozzie jokingly replied Jerry Seinfeld's. Seems legit. She tells him he never takes anything seriously and breaks it off. Also since when is the Swedish Chef married?
via scarecroe.tumblr.com
Kermit comforts Fozzie by trying to compare his breakup with Piggy to Fozzie's situation. But, Fozzie throws him a "to be honest" line that he doesn't understand his feelings because he was the one who broke up with Piggy. Fozzie doesn't want to be Santa for the show. Big Mean Carl offers to be Santa because he has so much holiday cheer.
He tries to prove this by reciting the "Night Before Christmas." He starts with, "Twas the night before Christmas and all through the house, not a creature was stirring, not even a mouse because I told them to shut up." This version speaks to me.
Mindy Kaling is the celebrity guest for the Christmas special, but there's one problem. She can't sing and the show scheduled her and Piggy to do a "It's the Most Wonderful Time of the Year" duet. She sings really flat in rehearsal and she blames the band that they couldn't follow her. Have no fear though, people tell her all the time she's an amazing singer, so they'll power through.
So far, the show is Santa-less, and the duet is terrible.
Pepe the King Prawn and Rizzo the Rat ask who they got for secret Santa, and they find out they both got Yolanda. They both try to figure out why.
Piggy is in her dressing room contemplating if her ugly Christmas sweater is ugly enough to wear to George Clooney's ugly Christmas sweater party. Scooter comes in the dressing room and Piggy wants his ugly sweater that his mom made him. Kermit enters and complains about Fozzie to Piggy, and asks if she can console him because she understands what it's like to be dumped by him, which is quite rude. Nevertheless, she agrees to use the spirit of Christmas help another poor soul.
Sam is still waiting under the mistletoe, but his focus for Janice is disrupted by Chip IT Guy. Chip starts going on and on about how he licks the sour cream flavoring off of Pringles and then throws them away, and how he associates numbers with colors. Janice passes by and Sam is pissed he missed her.
The writers try to make a comedy sketch for Mindy as she tells the story about how people yelled "Mindy we love you. We're obsessed with you," in a Target twice. Her washed up role in this episode is a great addition. They make her a sketch about an elves version of The Bachelor. She thinks it's fantastic and is excited to do a sketch and a song. Kermit explains they only have time for one and she goes with the song, because that's what people will tune in for. That was a waste of time.
Piggy tries to console Fozzie on what happened between him and Becky. Piggy convinces him that he doesn't need a hug, but just abnormal amounts of stuff to fill the void. She gives him a neck massage pillow, but he says this stuff doesn't keep him warm at Christmas. Piggy tells Fozzie to fight for her if he likes her that much. Fozzie keeps bringing up her breakup with Kermit even though Uncle Deadly tries to deter him from the subject. Fozzie feels a lot better, but now Piggy is left insecure and sad that she didn't fight for Kermit and will be alone on Christmas.
The crew comes in a mass to give Yolanda her secret Santa gifts and they find out she rigged all of the gifts. They figure out no one had her last year and they all feel bad. They all give her the gifts anyway with an apology on her being overlooked last year. The crew's gesture is sweet, but it's a dumb office gift. She just needed to get over it. Take it from The Office's secret Santa episodes. Three of the gifts in season two were an old shirt, an oven mitt and a shamrock keychain.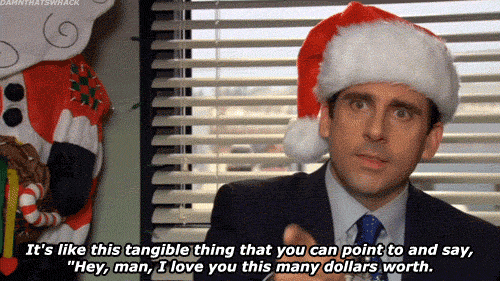 via giphy.com
The show has five minutes to air, and Fozzie is back as Santa after he apologized to Becky, but now Piggy refuses to go on.
Kermit comes in with Piggy eating cheese. She asks hypotheticals about being too proud in a relationship where Kermit catches on she's talking about herself. Kermit responds with how people can still remain friends and therefore no one is truly alone. He says people all over the world alone on their couches until Piggy comes on TV. "That's why you were my favorite show long before you were on TV," he says. Nice save Kermit.
via brighteronthesunnyside.tumblr.com
Kaling and Piggy start to sing, but then the entire crew jumps on stage to help the duet out and drown out Kaling's voice.
Waldorf says this is his favorite time of the year, and Statler agrees he loves Christmas. Waldorf then replies "It's Christmas?"
Kermit gets in front of the camera and sings along while linking arms with Piggy. He then says in a confessional that Christmastime leaves him a lot of confusing feelings. This gives us a glimpse into next season and what he might do to either suppress or follow those feelings.
At the Christmas party after the show at Rowlf's Tavern, Echosmith is randomly singing. Gonzo cheers in awe on how it's awesome the show got "Aerosmith" to play at the party. Bad joke. Rowlf pours whiskey for Sam and tells him to cheer up on the mistletoe stunt. Janice goes up to Sam and says she saw him hanging out with Chip and she knows how he has trouble making friends so she thought it was "totally" sweet of him. She kisses him, and he then has a look of surprise on his face.
Overall the season was hard to get into. The Muppets put on The Office front for a majority of the season, but the two aesthetics clashed. The Muppet characters are timeless. The Mayhem kills it in every episode because they never really had to adapt much to this show. They were still the band. Toward the later half of the season, Piggy became more tolerable and Gonzo went back to being a daredevil. It's as if the personalities went back to their original state either reluctantly or by habit.
This is not the first time these puppets have taken over their own adaptation i.e Wizard of Oz, Treasure Island and a holiday classic A Christmas Carol. Still sad the finale never pursued a Michael Caine/Ebenezer Scrooge cameo. Just with these adaptations, if the show keeps true to the lovable Muppets the public has known, next season can start off on a high note.
The Muppets will return Tuesday, Feb. 2, on ABC
@mmfernandez_
mf736213@ohio.edu