Lady Gaga stole the show with a David Bowie tribute, and Rihanna backed out of her performance at the 58th Grammy Awards.
Even though the 58th annual Grammy Awards ran three and a half hours long, only about 30 minutes of performances were worth watching.
But boy, were they worth it.
LL Cool J hosted this year's Grammys, which included memorable performances from Adele, Lady Gaga, Kendrick Lamar and Justin Bieber.
Taylor Swift started the show off on the right foot with a glittery performance of "Out of the Woods" and confetti raining on the crowd.
The show started with clips of flashbacks to Grammys past, and LL Cool J made a joke aimed at Lionel Richie and Adele because both of their songs are named "Hello."
Kendrick Lamar won the first award of the night for his rap album To Pimp a Butterfly, and Taylor Swift, being a Kendrick Lamar superfan, was so excited for the rapper.
Ariana Grande announced The Weeknd's performance with a bad pun using one of The Weeknd's songs, saying he "earned it" in reference to his success. When she realized the joke was going south, she began to sing the song to try to save herself. Ariana, you've been nominated for Grammys before. Everybody knows you can sing. You don't need to try to prove it.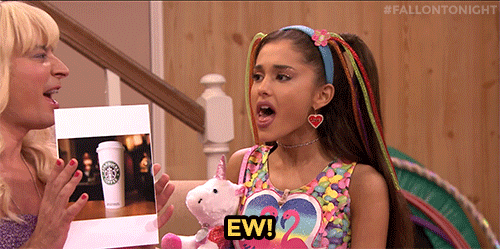 via giphy.com
The Weeknd's performance was entertaining, but it was very similar to his performances at previous award shows. We know you already have amazing vocals and dance moves, can you please try to mix things up next time?
Andra Day and Ellie Goulding sang a mashup of their songs "Rise Up" and "Love Me Like You Do," respectively. The singers' voices harmonized well and captivated the audience. Do we see a collab album in the future? I hope so.
After Chris Stapleton won the award for Best Country Album, John Legend, Demi Lovato, Luke Bryan, Meghan Trainor and Tyrese did a tribute to Lionel Richie. Richie even joined them all on stage to end the set with "All Night Long (All Night)." John Legend and Demi Lovato probably should have performed the entire tribute because Meghan Trainor and Luke Bryan totally ruined the performance, and it seemed by Lionel Richie's reactions, he agreed.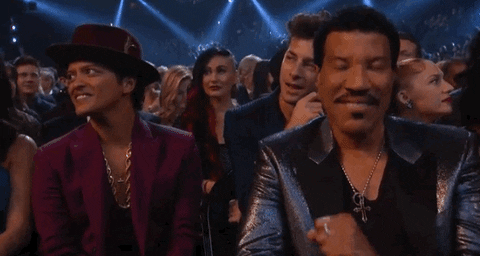 via giphy.com
Stevie Wonder, joined by Pentatonix, announced the Song of the Year. Stevie Wonder showed the crowd the card with the winner, which was written in braille under the printed text. He taunted the crowd for not being able read it and also praised the Grammys for their increased accessibility for people with disabilities. He finally announced the award went to Ed Sheeran for "Thinking Out Loud," and Taylor Swift freaked out for her friend again.
After a tribute performance to Glenn Frey from the remaining members of The Eagles, Stephen Colbert announced the performance from the cast of Hamilton at the Richard Rodgers Theatre in New York City. The audience seemed to love the performance of the opening number "Alexander Hamilton," and the musical later won for Best Musical Theater Album.
Joining Beyoncé's Super Bowl halftime show, Kendrick Lamar's performance made an important statement about the perceptions and realities of black people in America, which goes along with the theme of his album To Pimp a Butterfly. Beginning with "The Blacker the Berry," Kendrick Lamar opened his medley by mimicking a chain gang. Lamar was joined by more dancers as he transitioned into singing "Alright" in front of a gigantic impromptu bonfire in the middle of the stage. He ended by rapping an unreleased song and standing in front of a screen that showed the continent of Africa labeled "Compton."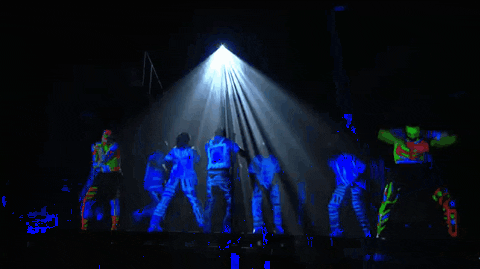 via giphy.com
Adele was basked in gold light during her performance "All I Ask," but her performance seemed off. Her microphone seemed to be malfunctioning, and it sounded as if a guitar was being strummed off-beat. Viewers speculated online different possible sources of the sound, knowing that Adele is too good of a singer to be pitchy. Adele later confirmed on Twitter that the "piano mics fell on to the piano strings," making the guitar sound.
Because of it though... I'm treating myself to an in n out. So maybe it was worth it.

— Adele (@Adele) February 16, 2016
Same, Adele. Same.
Immediately after Adele's performance, Justin Bieber began an acoustic version of "Love Yourself" while wearing a leopard print jacket. The performance showed Bieber's serious vocals and proved he is THE teenage heartthrob. Once the song was over, he joined a band including Skrillex and Diplo to do a performance of "Where Are Ü Now" that featured large drums and a group of string instruments. Although he didn't make it rain on the stage as he did during the American Music Awards, he kept his Beliebers satisfied with another great performance.
Sam Smith presented the Best New Artist award to Meghan Trainor, and she sobbed onstage for a while. After Trainor finally dried her tears, Lady Gaga began her explosive tribute to one of her idols, David Bowie. She completely transformed herself into Bowie with her makeup and several costume changes paired with her spot-on dance moves. The overall lighting and set effects — including a mesmerizing Ziggy Stardust projection on her face — totally transformed the stage into the ultimate tribute, and Lady Gaga again proved she is the queen of celebrity tributes.
via giphy.com
The Hollywood Vampires, a band comprised of Alice Cooper, Johnny Depp and Joe Perry, made its first live debut. The entire performance was confusing. Alice Cooper wore a shirt covered in fake blood, and Johnny Depp, channeling his iconic Captain Jack Sparrow character, shocked the audience by playing guitar. Overall, the entire performance was a trainwreck and probably should not have lasted half as long as it did.
Rihanna was supposed to sing, but it was reported that she had to leave the award show and cancel her performance due to a persistent case of bronchitis. It seemed as if the Grammys were scrambling for someone to replace her act and let a 12-year-old play piano on stage while Common and Recording Academy President Neil Portnow rambled on about the value of music. It was a very nice gesture, but Rihanna hasn't performed on live TV since her new album has released, and the show could've used a dose of RiRi.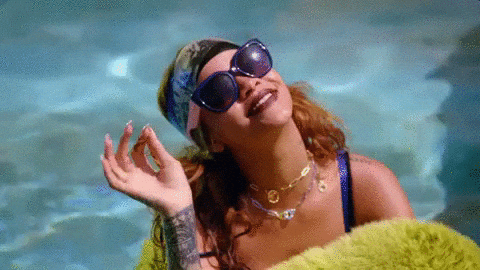 via giphy.com
Beyoncé graced everyone with her presence to announce Taylor Swift's 1989 as the Album of the Year, which came as of no surprise.
For some reason, Pitbull ended the show. Sofia Vergara, Travis Barker and Robin Thicke joined him onstage and just confused everyone. Sofia Vergara was the saving grace of the performance, but that isn't saying much. The Grammys should have just let Beyoncé stand on stage while everyone admired her — it would have been a better ending.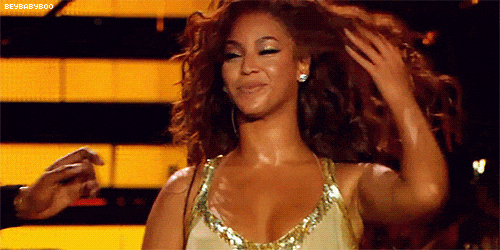 via giphy.com
And the 2016 Grammy winners are … (via Rolling Stone)
Album of the Year: Taylor Swift, 1989
Record of the Year: Mark Ronson & Bruno Mars, "Uptown Funk"
Song of the Year: Ed Sheeran, "Thinking Out Loud"
Best New Artist: Meghan Trainor
Best Rock Performance: Alabama Shakes, "Don't Wanna Fight"
Best Country Album: Chris Stapleton, Traveller
Best Rap Album: Kendrick Lamar, To Pimp a Butterfly
Best Musical Theater Album: Hamilton
Best Pop Vocal Album: Taylor Swift, 1989
Best Instrumental Composition: Arturo O'Farrill, The Afro Latin Jazz Suite
Best Arrangement, Instrumental Or A Cappella: "Dance of the Sugar Plum Fairy"
Best Arrangement, Instruments And Vocals: Maria Schneider, "Sue (Or In A Season Of Crime)"
Best Recording Package: Still The King: Celebrating The Music Of Bob Wills And His Texas Playboys
Best Album Notes: Joni Mitchell, 'Love Has Many Faces: A Quartet, A Ballet, Waiting To Be Danced'
Best Boxed Or Special Limited Edition Package: The Rise & Fall Of Paramount Records, Volume Two (1928-32)
Best Historical Album: The Basement Tapes Complete: The Bootleg Series Vol. 11
Best Engineered Album, Non-Classical: Shawn Everett, Bob Ludwig, Sound & Color
Best Remixed Recording, Non-Classical: Dave Audé, "Uptown Funk (Dave Audé Remix)"
Best Surround Sound Album: James Guthrie, Joel Plante, Amused To Death
Best Contemporary Instrumental Album: Snarky Puppy, Metropole Orkest, Sylva
Best New Age Album: Paul Avgerinos, Grace
Best Improvised Jazz Solo: Christian McBride, "Cherokee"
Best Jazz Vocal Album: Cecile McLorin Salvent, For One To Love
Best Jazz Instrumental Album: John Scofield, Past Present
Best Large Jazz Ensemble Album: Maria Schneider Orchestra, The Thompson Fields
Best Latin Jazz Album: Eliane Elias, Made In Brazil
Best Reggae Album: Morgan Heritage, Strictly Roots
Best World Music Album: Angelique Kidjo, Sings
Best Children's Album:Tim Kubart, Home
Best Spoken Word Album: Jimmy Carter, A Full Life: Reflections at Ninety
Best Comedy Album: Louis CK, Live At Madison Square Garden
Best Latin Pop Album:Ricky Martin, A Quien Quiera Escuchar (Deluxe Edition)
Best Regional Mexican Music Album: Los Tigres Del Norte, Realidades - Deluxe Edition
Best Tropical Latin Album: Ruben Blades with Roberto Delgado & Orchestra, Son De Panamá
Best American Roots Performance: Mavis Staples, See That My Grave Is Kept Clean'
Best American Roots Song: Jason Isbell,"24 Frames"
Best Americana Album: Jason Isbell, Something More Than Free
Best Bluegrass Album: The SteelDrivers, The Muscle Shoals Recordings
Best Blues Album: Buddy Guy, Born To Play Guitar
Best Regional Roots Music Album: Jon Cleary, Go Go Juice
Producer Of The Year, Classical:Judith Sherman
Best Opera Recording: Seiji Ozawa, Isabel Leonard, Dominic Fyfe, "Ravel: L'Enfant Et Les Sortilèges; Shéhérazade"
Best Choral Performance: Charles Bruffy, Phoenix Chorale, Kansas City Chorale, "Rachmaninoff: All-Night Vigil"
Best Chamber Music/Small Ensemble Performance: Eighth Blackbird, "Filament"
Best Classical Instrumental Solo: Augustin Hadelich, Ludovic Morlot, "Dutilleux: Violin Concerto, L'Arbre Des Songes"
Best Classical Solo Vocal Album: Joyce DiDonato, Antonio Pappano, Joyce & Tony - Live From Wigmore Hall
Best Contemporary Classical Composition: Stephen Paulus, "Paulus: Prayers & Remembrances"
Best Classical Solo Vocal Album: Joyce DiDonato, Antonio Pappano, Joyce & Tony - Live From Wigmore Hall
Best Compilation Soundtrack For Visual Media: Glen Campbell, Glen Campbell: I'll Be Me
Best Score Soundtrack For Visual Media: Antonio Sanchez, Birdman
Best Song Written For Visual Media: Common, Rhymefest, John Legend, "Glory"
Best Music Video: Taylor Swift, Kendrick Lamar, "Bad Blood"
Best Music Film: Amy
Best Gospel Performance/Song: Kirk Franklin, "Wanna Be Happy?"
Best Contemporary Christian Music Performance/Song: Francesca Battistelli, "Holy Spirit"
Best Gospel Album: Israel and Newbreed, Covered: Alive In Asia [Live]
Best Contemporary Christian Music Album: Toby Mac, This Is Not A Test
Best Country Solo Performance: Chris Stapleton, Traveller
Best Country Duo/Group Performance: Little Big Town, "Girl Crush"
Best Country Solo Performance: Chris Stapleton, Traveller
Best Country Duo/Group Performance: Little Big Town, "Girl Crush"
Best Country Song: Hillary Lindsey, Lori McKenna, Liz Rose, "Girl Crush"
Best Dance Recording: Skrillex, Diplo and Justin Bieber - "Where Are Ü Now"
Best Dance/Electronic Album: Skrillex and Diplo, Skrillex And Diplo Present Jack Ü
Best R&B Performance: The Weeknd - "Earned It (Fifty Shades Of Grey)"
Best Traditional R&B Performance: Lalah Hathaway, "Little Ghetto Boy"
Best R&B Song: D'Angelo, Kendra Foster, "Really Love"
Best Urban Contemporary Album: The Weeknd, Beauty Behind The Madness
Best R&B Album: D'Angelo, Black Messiah
Best Metal Performance: Ghost, "Cirice"
Best Rock Song: Alabama Shakes, "Don't Wanna Fight"
Best Rock Album: Muse, Drones
Best Alternative Music Album: Alabama Shakes, Sound & Color
Best Rap Performance: Kendrick Lamar, "Alright"
Best Rap/Sung Collaboration: Kendrick Lamar featuring Bilal, Anna Wise, Thundercat, 'These Walls'
Best Rap Song: Kendrick Lamar, Kawan Prather, Sounwave, Pharrell Williams, "Alright"
Best Pop Solo Performance: Ed Sheeran, "Thinking Out Loud"
Best Pop Duo/Group Performance: Mark Ronson featuring Bruno Mars,"Uptown Funk"
Best Traditional Pop Vocal Album: Tony Bennett, Bill Charlap, The Silver Lining: The Songs Of Jerome Kern
Producer Of The Year, Non-Classical: Jeff Bhasker
@_alexdarus
ad019914@ohio.edu