To prevent Ilana from being kicked out of an organic grocery store co-op, Abbi pretends to be her friend and knocks her impersonation out of the park.

On this week's Broad City, Abbi and Ilana do what they do best — mock pretentious millennials and advocate weirdness.
The episode is mostly centered around a snooty organic grocery store co-op that requires patrons to work for their food, and if they fail to work or let someone cover their shift, they will be exiled from the co-op forever. Ilana (Ilana Glazer), being lazy per usual, hasn't completed any of her necessary hours for the "moon cycle" and asks Abbi (Abbi Jacobson) to act as her and cover her shift while she goes in for an important doctor's appointment (getting an HPV prevention shot even though she already proudly had HPV).
Ilana trains Abbi to be like her — AKA gets her really high — and dresses her up in an iconic Ilana outfit: a sheer jersey crop top, strappy bralette and fanny pack. Abbi really nails her Ilana impression, chanting signature phrases, such as "yas, queen" and "I love Abbi" in her best Ilana voice, which goes to show how much time the two spend together and how close these friends really are. Also, because they are such good friends, it appears admirable that Abbi would go out of her way to help her BFF out. Either that, or she really loves eating Ilana's organic produce, which keeps her regular, as she describes her bathroom experience as "dump out, flawless" after she eats the food.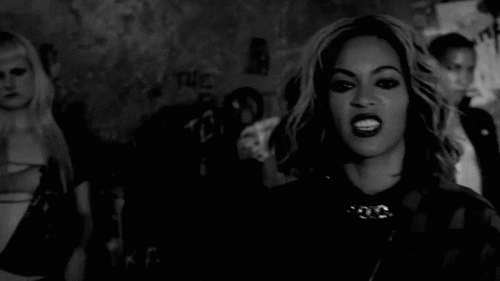 via giphy.com
Abbi nails Ilana's character and tricks the co-op into thinking she is Ilana, and she even meets a hot man named Craig that shares all of Abbi's interests. Abbi talks herself up as Ilana and plans to set the two up because finding a date can never be easy for the Broad City women.
Ilana's love life isn't exactly normal either. On the way to her doctor's appointment, Lincoln (Hannibal Buress) gives her comfort food and a "gingerblunt man" to calm her nerves. Ilana also jumps into his lap while driving, saying "I need to be swaddled," so it all starts off pretty typical for them.
awwww @hannibalburess pic.twitter.com/kgJN5XRvfe

— Broad City (@broadcity) February 25, 2016
After the appointment, however, Lincoln admits to Ilana that he hooked up with someone else. She makes him explain what exactly he did with another woman while she literally throws an adult temper tantrum by uprooting plants on the sidewalk and stomping on his car hood. Right as Lincoln is about to call 911, Ilana says the whole thing makes her so "hot." The scene, while extremely dramatic, makes not-so-subtle commentary about Ilana's lax attitude with men and the stigma around millennial hookup culture. It is also interesting to see somewhat relatable relationships on TV. Although almost always dramaticized, the men that come and go in Abbi's life, as well as Ilana's strange relationship with Lincoln, show that not every relationship is cut and dry. Different people can have different relationships and unique sex lives and still be regular, relatable people, even though Abbi and Ilana are cooler than probably any real person.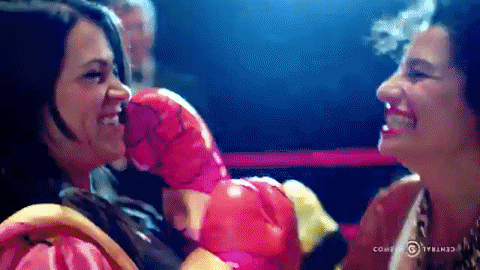 via giphy.com
When Ilana goes to tell Abbi the good news about Lincoln hooking up with someone else at the co-op, she meets Craig and must pretend she is Abbi. Ilana's Abbi impression is downright awful, which is kind of unexpected considering how much she adores her friend, and she blows their cover. Abbi tells Craig the truth, thinking he will like her for who she is, but things don't go over that smoothly. He ends up shunning her for mistreating the co-op and disses her with a lyric from "Cavern" by Phish, which she is more appreciative of than upset about.
In the end, Ilana and Abbi get banned from the co-op, which apparently is connected with every other co-op in the city and Whole Foods Market, so they now will have to eat "garbage" forever, as the strange owner of the store says. I suppose it's no big deal because Abbi and Ilana aren't exactly cut out for the pretentious New York luxuries anyway.
Broad City airs Wednesdays at 10 p.m. on Comedy Central.
@_alexdarus
ad019914@ohio.edu