Abbi and Ilana are back to bumming around New York and getting caught up in unlucky shenanigans.
Our favorite dysfunctional New Yorkers are back and better than ever.
The highly-anticipated third season of Broad City returns with the same bizarre antics and strange plot lines.
The episode begins by showing a side-by-side shot of two bathrooms and a montage of scenes involving Abbi (Abbi Jacobson) and Ilana (Ilana Glazer). The two are shown dancing, sleeping, eating chocolate and even wearing both versions of the dress meme that went viral last year. Rather than starting the show with a recap of what happened last year — which would be pointless — the montage reminds the audience exactly what Abbi and Ilana's weird lives are all about: weed, sex and pregnancy scares.
Bathrooms become a dominant theme throughout the episode, as the two spend most of the 30 minutes trying to find a restroom after they went to a restaurant that lacked bottomless mimosas but had plenty of free sparkling water.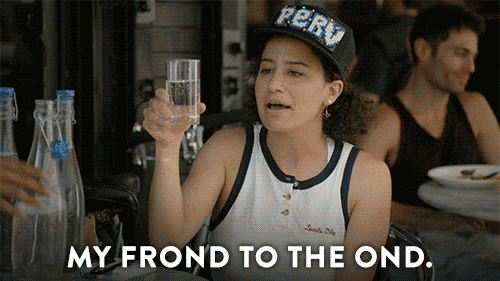 via giphy.com
Of course, nothing can go simply for the New Yorkers. When Ilana arrived to the restaurant, she dropped her keys in a sewer grate and had to bring her bike to the table. Abbi tries to use gum and the belt of her shirt to retrieve the keys, but a mysterious thing in the grate grabs (or bites) the string and almost pulls Abbi into the sewer. They are left needing to pee and to find a new shirt for Abbi to wear to a prestigious art gala for her old friend — not to mention Ilana is locked into the gigantic bike chain she wore around her waist.
In desperate need of a toilet, the two head to a pop-up store filled with middle-aged women fighting over clearance deals. Although they didn't find a bathroom, Abbi found a shirt to wear and Ilana found a fedora. Abbi buys the shirt but, of course, the security tag is left on. When they return to the store to get it removed, the place is empty. What pops up, must pop down and in this case, it popped down quite quickly.
Ilana is desperate at this point, and she candidly begins to squat down between two cars to pee. Of course, there is a cop standing right there, and Ilana proclaims she was just "doing squats." Abbi runs into a nearby store to get the security tag removed and coolheadedly comes out to tell Ilana that the store thinks she stole the shirt and the cops were coming. Rather than freaking out, they both calmly get on Ilana's bike and slowly pedal away, which is a perfect example of why they're the coolest "uncool" girls ever.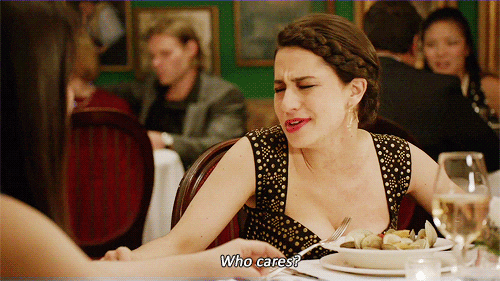 via giphy.com
As if they didn't already have enough on their plates, Lincoln (Hannibal Buress) calls Ilana and asks if she forgot about his graduation — from circus school. Lincoln swings on a trapeze without doing any tricks, and Abbi and Ilana clap and run away. Although there is little context for Lincoln's acrobatic ambitions in the show, it totally fits with the show's penchant for neurotic scenes that don't necessarily make sense, but you're obsessed with them anyway.
iCYMI pic.twitter.com/owMYZgdGa7 — Broad City (@broadcity) February 18, 2016
When they leave the graduation, Abbi and Ilana finally seem to have a light at the end of the tunnel: a porta-potty. Abbi runs in and finally gets to go to the bathroom when a crane picks up the entire porta-potty. She screams for Ilana's help as she swings around in mid-air only finally to be placed safely on the back of a flatbed truck and into Ilana's arms.
The girls sit on the back of a nearby bread truck to take a break and laugh about the whole ordeal, when the truck begins to drive away with Ilana's chain stuck on the hitch. Abbi chases after her for awhile until she finally gets the bread truck driver, who is watching porn while driving, to stop the truck so she can unhook Ilana. Ilana reveals she peed her pants and hugs her friend while mumbling "Let's get married" to Abbi, which she can't hear. Ilana's love and appreciation for Abbi is admirable, even though it's somewhat obsessive at times. It's different from any other female friendship shown on TV because it shows how friendship is kind of like a relationship and acknowledges an interesting point that love in a friendship is not always clear-cut.
pic.twitter.com/qvh7VYDFOw — Broad City (@broadcity) February 18, 2016
The two seem to totally forget about the traumatic events they just experienced and head to Abbi's friend Max Anne's (Sonia Villani) art opening — with wet pants and a shirt with security tags. When they arrive, Max Anne shows the two her painting of a plain fingerprint that she proclaimed took two and a half years to paint with the soft end of a feather. Max Anne tells Abbi a story about a girl who stole clothes from her and complains about people who steal clothes. Ilana, like the good friend she is, casually steps in front of Abbi's security tag while Max Anne walks away. Ilana attempts to bite off the tag, but the blue ink inside splatters all over her face and Max Anne's painting. They are kicked out of the art show, but not before Abbi has to free Ilana from a giant magnetic sculpture of a man's scrotum which connected to her chain belt. It's just a typical day for the Broad City girls.
At the end of their long day, Abbi attempts to use lotion to free Ilana from the chain belt. Ilana begins to bleed because the chain is rubbing her skin so hard. The two have to get in weird positions that look extremely sexual to try to get the chain off, and Ilana's roommate Jaimé (Arturo Castro) awkwardly walks in to see the scene and immediately walks out. She finally frees her friend from the belt, and Ilana is topless and bleeding everywhere.
Ilana's weird Abbi obsession is shown when she says to Abbi "Tell me that wasn't sexual," in which Abbi replies "You're bleeding dude." "Ding ding ding ding!" Ilana answers.
The duo is back to remind us that New York City can sometimes be a pretentious or weird place and it's OK to be goofy and uncertain because it makes for good, relatable TV.
Broad City airs on Wednesdays on Comedy Central at 10 p.m.
@_alexdarus
ad019914@ohio.edu