Fuller House needs to find the right recipe in order to be successful.
Fuller House has all of the right components to be a family-friendly show, but it is not there yet.
The new sitcom induces nostalgia by taking the audience back to a time when people came home from school, sat down on the couch and turned on the TV to watch Full House. This time, though, the audience watches the Full House reboot, Fuller House, on an Internet platform and binge-watches all 13 episodes at once.
It has been one year since D.J. Tanner-Fuller (Candace Cameron Bure) lost her husband and father to her three kids Jackson (Michael Campion), Max (Elias Harger) and Tommy (Dashiell and Fox Messitt). Her sister Stephanie Tanner (Jodie Sweetin) and zany best friend Kimmy Gibbler (Andrea Barber) — who also has a kid named Ramona (Soni Bringas) — offer to help D.J. and move into the same house they all grew up in.
The premiere episode, "Our Very First Show, Again," is awful. Creator Jeff Franklin tried way too hard to make it exactly like Full House. Obviously Franklin wants to draw parallels between the two shows, but there is a difference between making it similar and making it the same. Throughout the episode, they played back scenes from Full House's pilot. They were exactly the same, except the genders were flip-flopped. Fuller House even casted a set of twins to play baby Tommy. Is that strange or what? The live studio audience also was incredibly annoying, especially in the first episode. The audience would scream for at least five seconds every time an original cast member made an appearance, which is a lot of time with the cast being so big. If people can get past the horrific first episode, the show does get moderately better as the series progresses. Jeff Franklin just needs to realize that even though it is a reboot of Full House, Fuller House does not need to follow the same path. Fuller House has the potential to be a great family sitcom, but it will never live up to its predecessor.

via giphy.com
It seems as if Fuller House has two target audiences: families and the kids who grew up watching Full House. That leads to an imbalance of kid-friendly humor and inappropriate, adult humor. Some of the jokes made are not meant for children to hear. That being said, Fuller House does not need to make sexual references in order to be funny. The best and most hilarious scenes involved the kids and their innocent, child-like humor.
The real stars of the show are the child actors. The adults seem out of practice, which leads to some really forced acting. In comparison, the kids' acting seems really genuine. The real star of the show is the middle child, Max, played by Elias Harger. Max is adorable and too smart for his own good. He even has his own catchphrase: "Holy chalupas!" The audience will instantly fall in love with this little dude.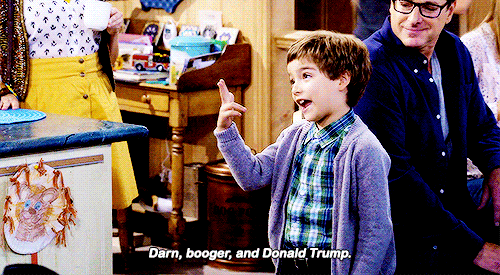 via giphy.com
The characters do mention Michelle, but they cast some serious "shade" while doing it. There is some obvious contempt for the Olsen twins refusing to join the reboot. In the first episode, Danny Tanner (Bob Saget) says "Michelle is busy in New York running her fashion empire." Then the whole cast turns and glares at the camera. In another episode, Kimmy's daughter Ramona buys a designer dress made by Mary-Kate and Ashley Olsen. Kimmy responds by saying, "With these prices, no wonder they don't need to act anymore." While those jokes were absolutely hilarious, they are also immature and unnecessary. If the Olsen twins were considering coming back to the show, I doubt they will now.
via giphy.com
Fuller House has some work to do. It needs to focus on the family aspects of the show instead of trying to appeal to the '80s and '90s kids who grew up watching it. Even if it is a kid's show, the adults who loved Full House will still watch it so they can feel like a kid again.
Rating: 2/5
@georgiadee35
gd497415@ohio.edu