Chris Rock candidly addresses #OscarsSoWhite over Girls Scout cookies and Leonardo DiCaprio won his first Oscar at the 88th annual Academy Awards.
To summarize the 2016 Oscars in a nice, tweetable sentence: host Chris Rock killed it, Leonardo DiCaprio won his first Oscar and there were Girl Scout cookies for everyone.
Finally, Leonardo DiCaprio won his first Oscar.
His win successfully killed so many memes, but I think we'll all get over it after seeing Leo accept the Best Actor award for his role in The Revenant and Kate Winslet literally jumping to her feet with joy.
Spotlight, a personal favorite touted by a few of my journalism professors, deservedly won Best Original Screenplay and Best Picture. It successfully blew up the journalism world, flooding my Twitter feed with reporters and professors tweeting their praises.
Oscar says: See it if you haven't. You won't regret it. https://t.co/p56bESBIaj

— profstewartrk (@profstewartrk) February 29, 2016
In other news, Mad Max: Fury Road made out with six different awards: Best Costume Design, Best Makeup and Hairstyling, Best Film Editing, Best Production Design, Best Sound Editing and Best Sound Mixing. It also beat out Star Wars: The Force Awakens, which did not receive any awards, despite some great cameos by C-3PO.
Perhaps the greatest thing about Brie Larson's acceptance speech for Best Actress was Jacob Tremblay's reaction to her win.
The Room was by far one of my favorite movies this season, and while I would have loved some more recognition for such a great film, watching the cast interact was amazing.
And he is just too cute.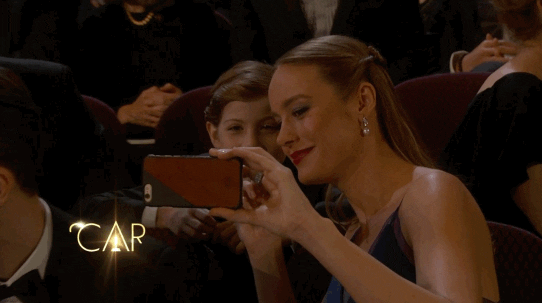 via giphy.com
Best Supporting Actress was announced early this year, with Alicia Vikander winning for The Danish Girl. Her shoutout to Eddie Redmayne was so heartfelt. She totally deserved this award.
Mark Rylance gave one of the biggest upsets of the night as he beat fan favorite Sylvester Stallone for Best Supporting Actor for his role in Bridge of Spies. But let's be real for a moment: If anyone was going to win for Creed, it should have been Michael B. Jordan.
As we all know, the winners weren't the only thing that had us waiting for the Oscars with baited breath. The #OscarsSoWhite campaign and boycott had kept the ceremony in the limelight during the months leading up to it, and moviegoers everywhere were wondering how the controversy would be handled.
I'm pleased to say Chris Rock didn't hold back.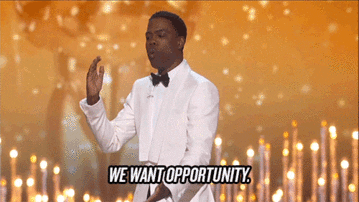 via giphy.com
He came swinging right out of the gate and didn't miss a mark once. Combined with Tracy Morgan as a fabulous Danish Girl and the best, most shameless and successful Girl Scout guilt trip ever, Chris Rock was a fantastic host.
We owe him for the pictures of our favorite stars snacking on cookies during the awards.
I can't think of anyone who could have dealt with the #OscarsSoWhite issue any better.
While they hit the big issues right on the head, the Oscars fell flat in a couple instances, namely its orchestra. Seriously, who was giving the cues for this music? The music seemed to be starting really early, almost cutting off a couple award speeches, leaving them feeling clipped and wanting. It didn't seem like such a big issue till it was still happening three hours in, thankfully they knew better than to cut off Leo's award speech.
In other music news, Lady Gaga is a queen.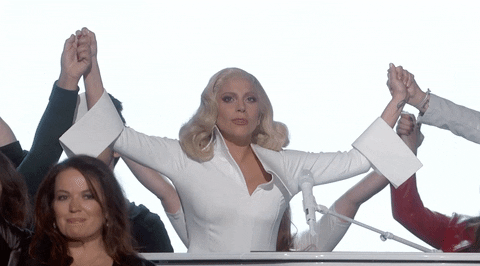 via giphy.com
Vice President Joe Biden introduced his friend Lady Gaga, who performed a chilling "Till It Happens to You" that brought the audience to tears. However, it was actually "Writing's on the Wall" by Jimmy Napes and Sam Smith that won for Best Original Song.
Lady Gaga gracefully congratulated the winners, but the Internet was less forgiving.
YO SAM SMITH IM REALLY HAPPY FOR YOU AND IMMA LET YOU FINISH BUT LADY GAGA IS THE ONE WHO DESERVES THIS AWARD

— Rigby (@oddvtr) February 29, 2016
All in all, I'm impressed with the Oscars this year.
Stacey Dash's cameo was totally awkward and the musical timing was off for most of the show, but Chris Rock was everything we hoped for and more; we found out Biden and Gaga are buddies and; praise all that is good in the world, Leo finally got an Oscar.