Ilana gets a job working for Hillary Clinton and Abbi braves the terrifying DMV on Broad City.
Democratic presidential candidate Hillary Clinton makes a guest appearance on Broad City this week, and Abbi and Ilana cannot contain their excitement.
Abbi (Abbi Jacobson) and Ilana (Ilana Glazer) are feeling like productive single girls this episode and have a busy day ahead of them. Abbi has to go to the dreaded DMV, and Ilana still has to find a job. Even though these tasks seem like simple everyday errands, nothing can ever really go simply for them. Ilana tries to support her friend, even though she is well aware of how much virtually everyone hates going to the DMV. "In the span of your whole lifetime, it's like a second, but in reality it'll be like 12 hours," Ilana tells her friend. Errands are stupid.
Abbi has an unlucky history with professional photos, and she's determined to finally have a good license photo for once in her life. Abbi typically cannot catch a break, however, and this time is no different. She tries to make a positive effort by getting her hair done before her appointment, and all seems promising when the stylist says to her, "You're gonna look just like a Bachelor contestant … but one that quits because she's too good for the show."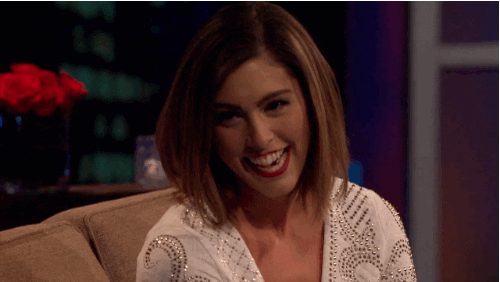 Via giphy.com
When she hands the stylist a coupon for a half-price haircut, however, he cuts and dries her hair so abrasively that it throws out her neck, to the point where it is completely kinked to one side. She finally arrives at the DMV, which looks like a war zone, and waits in line for several hours until she can finally get her picture taken. When she tries to unkink her neck for the picture, she ends up vomiting and has to immediately leave to see a chiropractor. Poor Abbi.
Ilana is broke and needs money ASAP. She tries to "perform" on the subway by tap-dancing in a coconut bra for tips, until she runs into her brother on the train, and he tells her she needs to get a real job immediately. "You were born in the '90s, I'm sure you have a flappy bird in you," he says to his sister encouragingly.
She heads to her trusty temp Linda (Rachel Dratch), who tells her that she cannot help her get a job because she is so stressed about her personal life. After the two lay in bed together and have a heart-to-heart, Linda finally finds Ilana a bike messenger job. Ilana is very good at the job, which is either really surprising or totally predictable — it's hard to decide which.
Ilana picks up "the most precious package in New York City," AKA Abbi, to take her to a magical chiropractor. The man not only fixes her neck but also cuts her hair and tells her that she can schedule an appointment at the DMV online to avoid long lines. When she arrives at the side of the DMV where people with appointments go, she is greeted with fancy chocolate and a free massage before she takes a driver's license photo with a photographer who treats it like a photoshoot. Finally, she catches a break.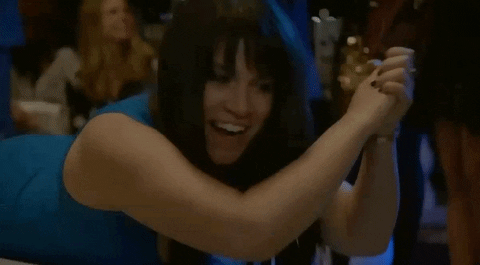 Via giphy.com
Along her route, Ilana delivers a package to Hillary Clinton's campaign headquarters and somehow gets a job working there. She literally could not be more excited about it. She even starts referring to herself as Ilana Rodham Wexler. She has to make phone calls urging people to vote for Clinton and calls her brother on the company phone to tell him the good news about her new adult job. Her boss overhears the phone call and breaks the bad news that Ilana was hired as a volunteer. She is devastated and forced to quit because she needs to work at a place that pays her, no matter how much fun she's having boasting about Hillary Clinton on the phone to randos.
Abbi joins Ilana as she packs up her things from the Clinton headquarters, and Ilana shows her around the place. Abbi turns her head to surprisingly see the presidential candidate herself walking in slow motion toward them and winking. They gasp for what feels like five minutes straight, but Clinton understands and tells them to take their time. If this episode doesn't get her to resonate with millennials, who knows what will.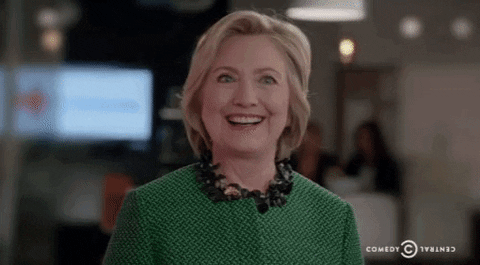 Via giphy.com
After the Broad City women blurt out a series of nervous phrases, Ilana promises the presidential candidate that even though she cannot continue to work for her campaign, she will tweet "Vote for Hillary, yas yas yas," once a week. Hillary surprises them by bringing in an inflatable air dancer identical to the one Ilana brought into her office when she was fired, and the show ends with a beautiful group hug between the three. God bless America.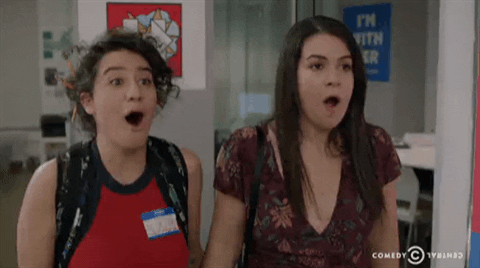 Via giphy.com
Broad City airs Wednesdays at 10 p.m. on Comedy Central.
@_alexdarus
ad019914@ohio.edu