Two women were Ja-makin' Ben crazy while one fell flat on "The Bachelor."
With three women left who are all in love with Ben, The Bachelor takes two relationships to the next level this week and leaves one woman crying in a car ride home.
Ben takes the three women to Jamaica for their first overnight date with him. Each woman gets to have a full day with Ben, and then, if they choose, they get to spend the night in the Sandals Fantasy Suite with him, as well. The entire idea is odd considering Ben has three dates in a row and wakes up with one woman in the morning and immediately goes to a new date with another. It is also strange considering the insinuations made about what happens during the nights the women spend with Ben, and how Ben does the same thing three days in a row with three different women. The whole thing makes me uneasy, but I guess it's the nature of the show.
Calia got the first date this week and she is feeling extremely anxious on a raft ride with Ben because she can't stop thinking about the other women. Ben proclaims his relationship is the "deepest" with Calia (yeah, right) except the two barely even talk on the boat ride and when they do, it is like two strangers making small talk. They end up just making out a lot because words are hard.
When they arrive at a Jamaican barbecue hut on the side of the river, Ben confronts Calia about being so reserved. She beats around the bush using lofty language that doesn't even answer the question, and they go into the evening uneasy.
Calia returns to meet Ben at the Sandals resort a lot peppier than she was during the day. She seems to realize that there's a lot on the line tonight and she should really make an attitude adjustment. She tells him why she felt uneasy and eventually tells him she is in love with him. He just kisses her back, which she takes as conformation, but it seems like something is off. Calia doesn't seem to notice though.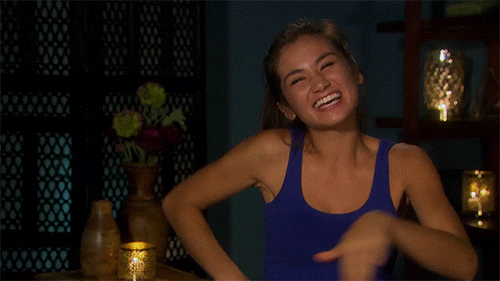 via giphy.com
They go into the fantasy suite after night swimming in the ocean, and they shut the door to the cameras until the morning. In the morning, Calia and Ben talk about how great the night was but Ben still does not reciprocate an "I love you." Hmmm…
Ben leaves the fantasy suite to take Lauren B. on her date, which is a boat ride to a beach where they meet a man who tells them they will be releasing baby sea turtles into the ocean. Lauren B. and Ben are pumped about the date, and Lauren B. makes a series of jokes relating her and Ben's relationship length to the length of a sea turtle's life. Lauren B. is putting on a brave face, but in a confessional she talks about how much pressure there is on tonight because she's going to tell Ben she loves him.
The couple goes to a reggae show and Ben presents Lauren B. with a date card. They head to the fantasy suite and eat a really good looking cheesecake, which would probably be my favorite part of the evening. She finally tells him she loves him, and he does a signature Ben Higgins eye roll before saying it back to her. She is shocked and starts crying a little when he says it back, and they spend the duration of the night repeating to each other how much they love each other. In the morning, the camera pans to their clothes thrown on the ground, insinuating the events from the night before, and Ben brings her breakfast in bed followed with a series of more "I love you's." They really need to find something better to talk about.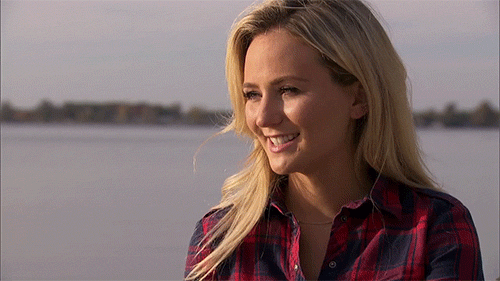 via giphy.com
JoJo has the final date of the week and Ben takes her on another helicopter ride to a romantic waterfall. They talk about JoJo's rocky hometown date last week, and JoJo explains that she understands where her brothers are coming from, but she's sure they'll come around to Ben. She finally tells Ben she loves him and he says it back, and JoJo is completely shocked that he does. Ben begins to freak out in his confessional about how he is actually in love with two women, which he didn't think was possible. They go into the fantasy suite, as Ben has with the other women, and have another "perfect" night.
In the morning, Ben reflects in his private house about the fact that he loves two women and Calia is not one of them. He knows he has to send her home, which will be hard. Meanwhile, Calia thinks she's being really spontaneous by showing up at Ben's house and literally sneaking up behind him to kiss him. Wow, that's awkward, but again, Calia doesn't seem to realize anything is wrong at first.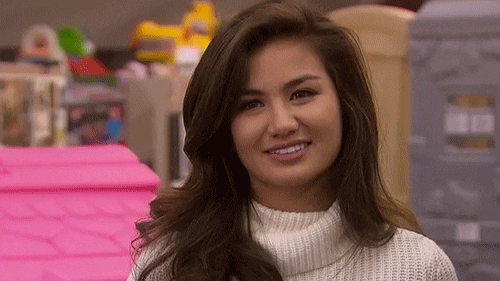 via giphy.com
He sits her down and tells her about his feelings for the other women and that he just does not feel the same way about her. She calls him out for sounding scripted, and she is visibly upset. She tells him she is going to go because "there's no reason to stay" and hugs him goodbye before getting in the car. As the car begins to drive away, Calia jumps out to ask Ben "So did you know this week?," referring to how the two spent the night together before he dumped her. He gives a fake answer about being conflicted, but it seemed to satisfy Calia. She leaves for real this time, sobbing in the car about how she was so ready to marry him.
JoJo and Lauren B. still arrive at the rose ceremony where Ben tells them that he sent Calia home. He still hands out roses, and the three have what is probably the most uncomfortable cocktail party after. Ben has no idea which woman he is going to choose, but both women are confident.
JoJo and Lauren B. were pretty obvious finalists. Ben has had strong relationships with the two. From a viewer's opinion, his relationship seems to be more developed and real with JoJo, but his infatuation with Lauren B. might ruin that. We also have to wait two weeks to see who the winner is considering next week's episode is "The Women Tell All," in which all of the ladies come back and talk about Ben. Yay, we get to see everyone's two favorite crazy contestants, Olivia and Lace, again!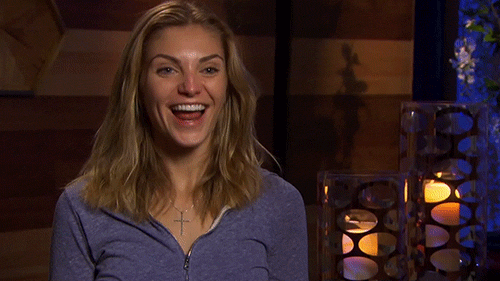 via giphy.com
Calia obviously needed to go. She acted like a Disney princess and never actually said anything that made sense about her feelings. She is up in a weird cloud of what seems to be fake joy and happiness, which would be hard for a person looking for a real relationship to fall in love with. Maybe she'll get lucky and be the next Bachelorette. Who knows?
The Bachelor airs Mondays at 8 p.m. on ABC.
@_alexdarus
ad019914@ohio.edu