Snapchat's new face filters make the app more fun for users.
As if adults weren't confused by Snapchat already, the app's recent updates to include face filters adds a new level of complexity to the social networking app.
Snapchat has recently become the most popular social network among teens, which may be due to recent updates to include different daily face filters. Snapchat face filters have brought new purpose for the app. Rather than taking plain selfies to send to your friends, users can now transform themselves with different face-altering filters to be anything from a dog to a cop with Aviators. The different masks and alterations have added a new element of conversation to traditional Snapchat exchanges. Here are 24 different filters and a user's thoughts while using them. Happy snapping!
1. Puppy filter
Arguably the best filter Snapchat has to offer, the puppy filter has become a classic. You even get a puppy tongue accompanied with sound when you open your mouth. What could be cuter?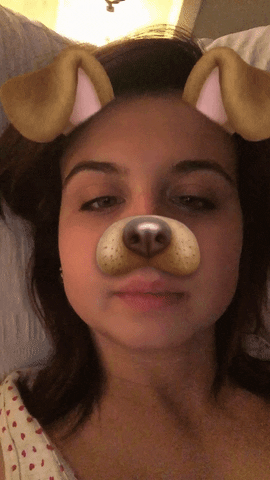 via giphy.com
2. Cop filter
Let your friends know you mean business with this filter. The cop filter makes you look like you have authority while keeping it cool with the sunglasses.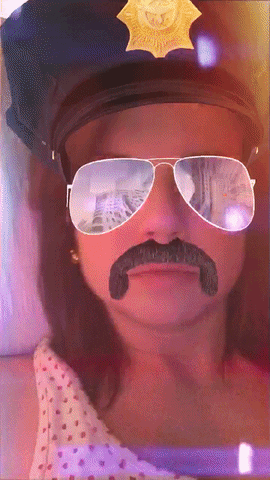 via giphy.com
3. Panda filter
The panda filter is not only cute, but very functional. This filter is ideal when you are not exactly feeling yourself and need some full-face coverage while snapping.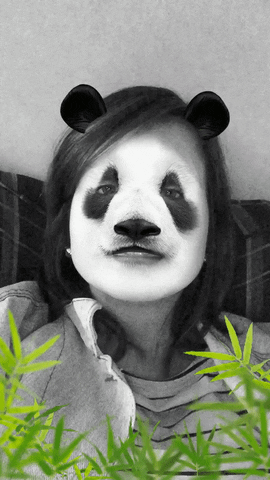 via giphy.com
4. Crying filter
You can really show off your emotions with this filter. Make your friends feel bad for being mean to you by sending a sad photo of yourself with this emotional filter.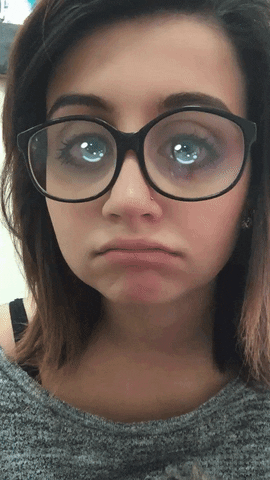 via giphy.com
5. Flaming skull filter
Use this filter to let people know that today really just isn't your day and you'd rather be a spooky skeleton than a functional human being.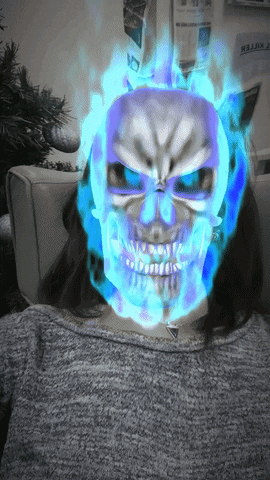 via giphy.com
6. Face swap
Since Snapchat developed the face swap filter, things on the app have never exactly been the same. It is fun to face swap your friends and see how distorted your face looks on their head, but it is 10 times more fun to face swap with inanimate objects. It is the ultimate source for hours of entertainment.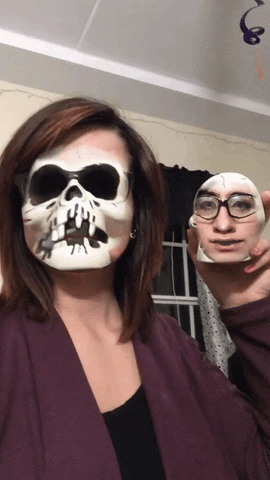 via giphy.com
7. Bunny filter
Show off your two personalities in one filter! When you are feeling cute and cuddly, snap a picture with your mouth closed and send to a friend. However, if you are really fed up with the person you are snapping, just open your mouth to turn into the real-life Bunnicula.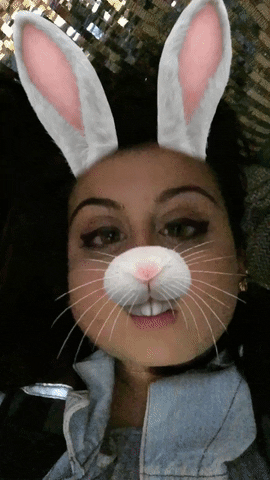 via giphy.com
8. Rainbow vomit filter
The rainbow filter has become somewhat of an icon in the Snapchat filter world. Countless celebrities have been seen goofing around with this filter, and though the idea behind the filter is somewhat unclear, it is still working anyways.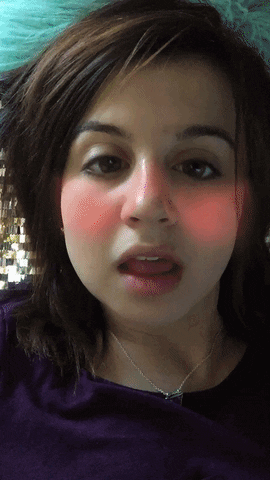 via giphy.com
9. Alien-looking filter
This filter squishes your face to make you look like a cute alien creature. It is like a better version of some of the filters on Mac's Photo Booth. It is definitely a keeper.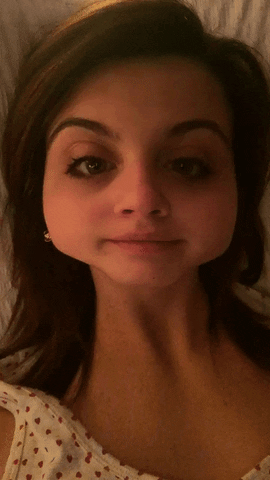 via giphy.com
10. Frowning filter
Perfect your pout with this filter to show your friends that you are really upset and sad. For some reason, this filter lightens your skin tone which is kind of a drawback, but it is a fool-proof way to achieve the perfect frown.
via giphy.com
11. Beard filter
This filter makes everyone look like Jesus or a rugged man, which is undoubtedly entertaining. The beard filter needs to make a return in the Snapchat rotation ASAP.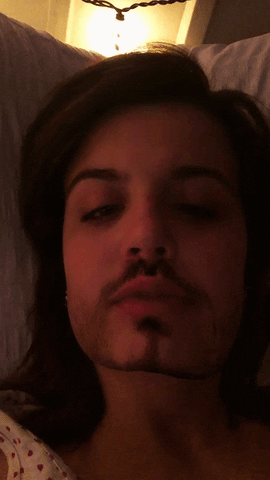 via giphy.com
12. Pig filter
The pig filter is a good concept without a good delivery. Why are there butterflies flying around you if you are a pig? Shouldn't they be flies or something? At least the filter comes with a cute oink sound whenever you open your mouth.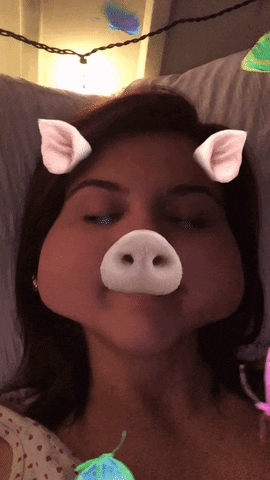 via giphy.com
13. Mona Lisa filter
The Mona Lisa filter is downright terrifying. It makes you look like a distorted version of the real work of art, and when you open your mouth, your eyes roll around like a crazy person.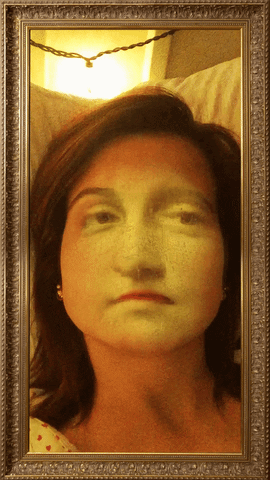 via giphy.com
14. Unicorn filter
The unicorn filter is like the rainbow filter with a makeover. You still puke rainbows and get wide eyes when you open your mouth, but this time you have a horn and ears poking out of your head. It is really very magical.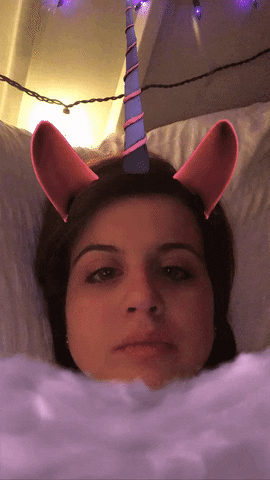 via giphy.com
15. Smeared Makeup filter
This filter makes you look like the joker. It is a good filter to trick your friends into thinking you are extremely upset over something and they need to go beat someone up for it.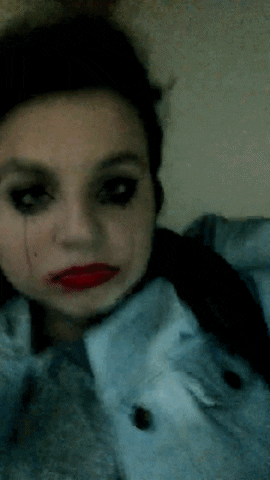 via giphy.com
16. Ben Franklin filter
This is a filter done right. Not only do you turn into Ben Franklin, but when you open your mouth, $100-bills fall from the sky. This is A+ work, Snapchat.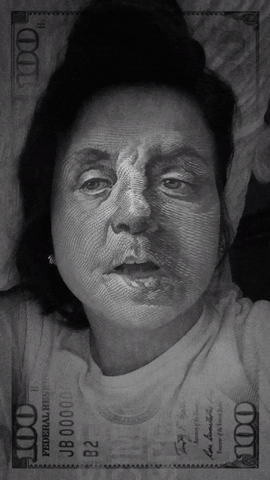 via giphy.com
17. Rave filter
This glow-in-the-dark face paint effect is somewhat amusing, but the random song playing in the background easily gets stuck in your head for days. This filter just feels very out of place.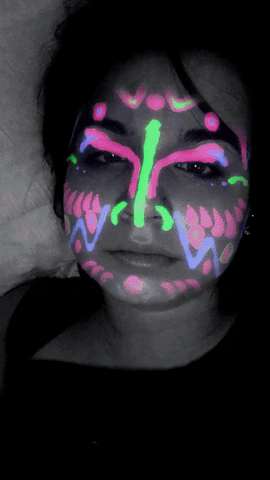 via giphy.com
18. Kylie Jenner filter
Although this filter is not directly attributed to Kylie Jenner, the resemblance is uncanny. Kylie even pointed it out herself on her own Snapchat, but at least this filter is safer than the Kylie Jenner Lip Challenge disaster of 2015.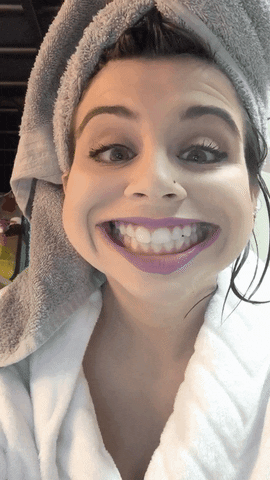 via giphy.com
19. Spider Filter
Another creepy filter transforms you into a spider complete with three sets of eyes and your very own web. If your parents has a snapchat filter, definitely send them this one to totally freak them out.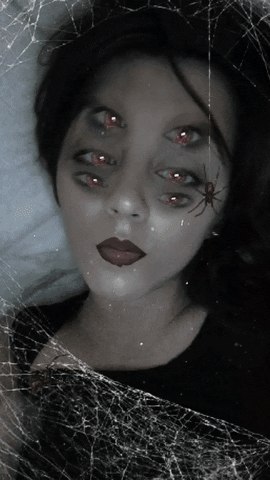 via giphy.com
20. Sunglasses filter
Really impress your friends with how cool you look in this filter, complete with sunglasses and a flame effect. You will soon be known as the chillest person they know.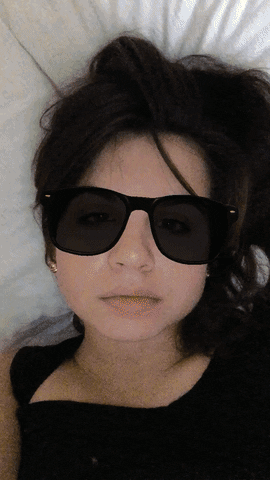 via giphy.com
21. Mouth for eyes filter
This filter, along with the face swap effect, allows you a lot of creativity. It duplicates the image of your mouth and transfers it to both of your eyes. Why send a plain video of you yelling or singing when you could do it out of three mouths? The possibilities are endless.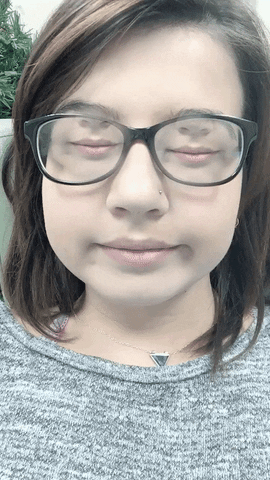 via giphy.com
22. Lizard filter
Snapchat really has a thing for animal filters. This filter makes you look like real reptilian in all your snaps, complete with a tongue effect when your open your mouth.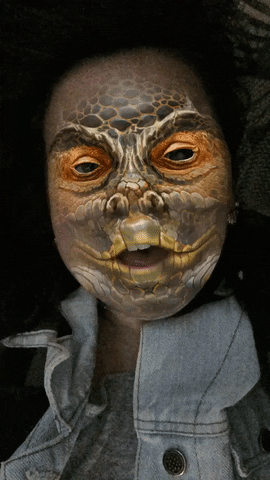 via giphy.com
23. Useless filter
This is the worst filter snapchat has created and yet it is consistently there every day. It tries to be like instant photoshop, but ends up making you look like a freaky version of a human. This filter needs to be discontinued immediately.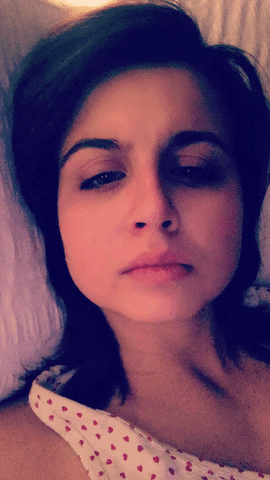 via giphy.com
24. Racoon Filter
This filter is the most adorable one available. Rather than just throwing a raccoon mask over your face, Snapchat added an effect to make your cheeks look chubbier like a real raccoon. Also, when you open your mouth, a snickering noise plays and two little raccoon hands rub together like a true bandit.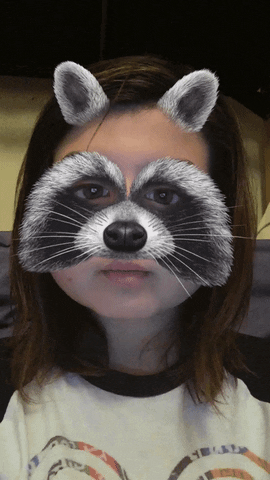 via giphy.com
Happy snapping!

@_alexdarus
ad019914@ohio.edu