I'm from North Carolina, which means I drink a lot of sweet tea, I know how glorious Bojangles is and I don't care at all about hockey.
The only hockey games I've ever been to have been for the Charlotte Checkers. That was only because I bandwagoned my little brother's Cub Scout connections so I could consume endless wings and Dr Pepper in the Lowe's box suite instead of actually watching the game.
This is to say, that when I moved to Ohio for school, the excitement behind a 12-man ice brawl vaguely justified as a "sport" with "rules" was appealing, if unfamiliar.
Now that I do live in a place where most people are able to name a NHL hockey team, I don't want to be left out. I need a team.
I could pick my home team, but that seems dumb to cheer for a team from a state that claims to be "North" but falls below the Mason-Dixon line. I could cheer for my new home team in Columbus, but that would just make me a lemming.
This is why I turned to the internet and The Post's newsroom for help.
If I become a hockey fan this season, which team should I arbitrary root for?

— Seth Archer (@SethPArcher) October 9, 2016
This poll is what set things off in The Post newsroom. I began soliciting help from various members of our staff to make sure my eventual decision was the right one.
Our assistant sports editor and newsroom sweetheart, Andrew Gillis, typed up a formal list of 10 teams I should support and why. He started the list with the Hurricanes though, so I automatically ignored his subsequent suggestions.
Also, shoutout to @Andrew_Gillis70 for making me a comprehensive breakdown of the top ten prospects pic.twitter.com/ACw5pilA5f

— Seth Archer (@SethPArcher) October 9, 2016
I tried consulting our resident Canadian, Jordan Horrobin. He's from Canada so he could skate before he could walk. He roots for the Detroit Red Wings, which makes me question his loyalty to Justin Trudeau and his mother country, but I guess it's allowable since he lives closer to Detroit than he does a maple syrup farm (unconfirmed.) He suggested picking a team with a good throwback jersey, which was a valid point.
Twenty-four hours after the Twitter poll was launched, I had a list of votes to add to my growing list of bandwagon team opinions.
Canadiens: 8
Rangers: 8
Red Wings: 7
Hurricanes: 4
Blues: 3
Blue Jackets: 3
Pens: 3
Sharks: 2
Sabres: 1
Oilers: 1
Vegas: 1
Avs: 1
Leafs: 1
So, we tried to pull off a Facebook Live of my dramatic announcement, but too many people tried to watch it at once and we crashed Facebook's servers ... probably.
Technical difficulties aside, I have decided to mostly ignore the above votes and will be taking my fandom to...
*drum roll please*
THE TORONTO MAPLE LEAFS!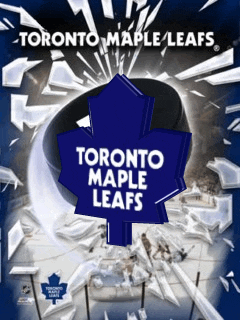 I highly encourage you to follow along with my newfound love of hockey. Bandwagon Battle is more than a weekly blog. It's a hashtag. It's the birth of tens of new hockey fans in our newsroom, and potentially more if you join.
Pick a team and follow along. Next week I'll be back talking about how The Post newsroom tried to talk to their parents about hockey. It's already gotten weird here, and the NHL season hasn't even started yet.
Go Leafs!