Every season of The Bachelor brings about a villain that fans love to hate. Nick's season is no different. Corinne has, without a doubt, totally accepted her evil role and doing it better than her predecessors. She's a carefree woman who loves getting naked in front of Nick and getting what she wants. She's also surprisingly good at persuasion.
After Taylor and Corinne had a showdown last week, it seemed pretty obvious they would get put on the two-on-one date this week. Every Bachelor villain in the past has succumbed to the dreaded date and usually came out on the losing side — until Corinne came along.
"I am the queen #winning," Corinne says before the date even happens. It's almost like she has a premonition of what's to come.
Corinne somehow manages to beat Taylor out during the two-on-one, and some traditional Bachelor fan might ask "How?" Well, here's a step-by-step guide to how Corinne has managed to stay on the show for so long — and how she might actually have a shot at winning.
1. She creates a carefree draw that Nick is into
Corinne's antics may come off too strong to other people, but not to Nick. He seems to love when she brings whipped cream and bounce houses to dates, even when it infuriates the other women.
"I'm colorful," Corrine told the camera when complaining about Taylor in Monday's episode. I guess she could say that. Nonetheless, it's working. Nick is under the Corinne spell and it's unclear if he'll ever come out. #Pray4Nick
2. She chooses her battles
Corinne chose to have problems with Taylor in the house — a know-it-all who likes to keep to herself. She knows better than to pick a fight with Danielle M. or Rachel, who are obvious frontrunners on the show. She knew Taylor was a threat, but one that could be taken down.
"Oh wait a minute, she's a f-king idiot. So i'm going to school her," Corinne said before the huge Taylor blowout. And boy did she take her down.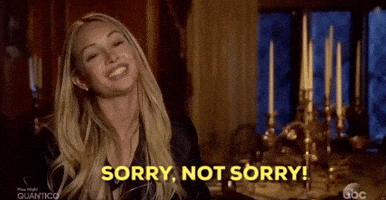 via giphy.com
3. Corinne knows how to play the victim
When Corinne brings up her issues with Taylor to Nick, she makes sure to bring the pity party with her. She tells him Taylor "emotionally attacked" her and called her "stupid," which is a bit of a stretch, but it works.
Nick tells Taylor he "diminished her sense of worth" about Corinne. It is pretty obvious he's much more into a relationship based on "whipped cream and lies" than one with a bully. Ouch.
4. She owns up to being a villain when necessary
"Who's stupid now Taylor?," Corinne gloats after she gets the two-on-one rose. Corinne isn't going to pretend like she's something that she's not. She knows she can play dirty and also knows that she keeps getting roses for doing it.
"I'm nice until you cross me," Corinne said. "Don't cross me." Rawr! She means it too. She will find a way to make the Bachelor leave you on an island in a bayou with a bunch of voodoo priests. And that is definitely a promise.
5. She is always confident
Corinne isn't just confident with her body, but with her "emotional intelligence" and her relationship with Nick.
"Make Corinne great again," Corinne said during the date. She's definitely not always following the traditional mold of a Bachelor contestant, but her tactics are getting her more time with Nick. She knows she has an upper-hand in some things and won't hesitate to brag about it. She doesn't care if the other women get angry if she takes a nap during a rose ceremony or storms out during a date, she's just doing Corinne. Who knows, maybe she'll end up with a ring on her finger.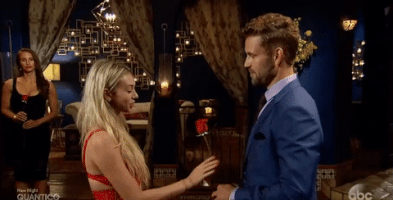 via giphy.com
The Bachelor airs Mondays at 8 p.m. on ABC.