Meeting a significant other's parents for the first time is nerve wracking for anyone. Imagine having to experience that feeling four days in a row.
That's exactly what it was like for Nick during the Monday, Feb. 20 episode of The Bachelor.
It is finally hometowns! We get to meet Raquel! And see Raven drive a four wheeler! All the goodies Bachelor fans look forward to all year. Nick also gets a surprise visit from an unexpected guest that could make him rethink everything. Here's how the hometowns each went during Monday's episode:
via giphy.com
Raven and Nick get caught by the cops!
Raven decides she needs to show Nick all of the quirks of Hoxie, Arkansas, including the age-old tradition of having deep talks on the grain bins. However, a cop catches them and starts to ask them to show their ID. It turns out the police officer is actually just Raven's older brother messing with them. It was hard to tell if Nick was more terrified of being arrested or being caught off guard with the meeting of a family member.
After kissing in the mud all day and meeting Raven's parents, Raven decides she wants to tell Nick that she loves him.
"There's no hesitation on my end of what becomes of this," she ends up saying before Nick leaves. She said despite her wanting to tell him those three little words, she just couldn't. It's probably because there are still three other totally different women in the picture. She shouldn't worry that not saying it will put her behind. Nick seemed totally in awe by Raven's sweet four-wheeling skills.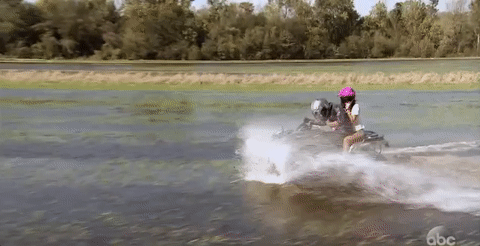 via giphy.com
Rachel's family gets serious
Rather than Rachel showing Nick all of the tourist sites in her hometown of Dallas, she decides she wants to share a spiritual experience with him and take Nick to a church — which is predominately black. She said she takes him there because she wants to she how he acts when he's in that environment. The church visit prompts Nick and Rachel to get serious about their relationship.
"I'm not color blind," Nick said. "I know you're black."
The two agreed they didn't have a problem being in an interracial relationship and the chemistry between them is strong.
Nick assured this to Rachel's family when he first met them. Almost every one of her family members asked him about dating a black woman for the first time, and he ensures them his feelings for Rachel are genuine.
"I like what I see with Nick so far," Rachel's mom said to her daughter. Her mom even went as far to say that Nick reminds her of Rachel's dad, which makes Rachel excited. It does suck to watch how well this hometown went and know that Nick is only going to break Rachel's heart in the end anyway because of her Bachelorette announcement. His loss!
Viewers finally meet Raquel
Corinne decides that she is going to show Nick a day in her life in Miami, Florida. This includes shopping at one of the most exclusive malls in Miami and spending more than $3,000 dollars on clothes for Nick. Yeah, because that's just an average day for anyone.
"If Corinne and I wind up together, I might have to get a couple jobs," Nick said. Yeah, probably like five.
Money is a big part of the conversations Nick has with Corinne's family. Corinne's dad is unsure how Nick will be able to support his daughter, but she ensures her father that she can be the "breadwinner." Nick even had a one-on-one with Raquel, Corinne's "nanny" who said if Corinne's happy, she's happy. At least Nick passed the Raquel test. She's probably the most rational one in Corinne's house anyway.
via giphy.com
Vanessa's parents ask the tough questions
While Vanessa and Nick are meeting her parents in Montreal, they are forced to think about the logistics of their future together. Because Nick lives in Wisconsin and Vanessa has a life in Montreal, her parents worry that Vanessa will move far away from them.
"I'm just really scared for her," Vanessa's sister said to Nick. "I'll hate you if you break her heart"
Also, when Nick sits down one-on-one with Vanessa's dad, he thinks it'd be a good idea to ask him for his blessing to get engaged to Vanessa. Yes, Nick thought that would be a good ice breaker with her dad. Uh oh.
"I just can't give you my blessing just like this," Vanessa's dad said, which left Nick feeling defeated. Nick also admitted to her dad that he asked the parents of the other three women the same question, which made everything really uncomfortable.
Vanessa's dad told Vanessa about the conversation with Nick, which made her feel extremely upset.
"It makes it less meaningful," Vanessa said about Nick asking for her dad's blessing. "I'm terrified of not ending up with Nick and I'm scared I'm going to regret all of this." But really, who could blame her?
Andi's back!
Nick and the women are in Brooklyn getting ready for the next rose ceremony. Tensions are high and Nick is worried about his future.
To make matters worse, he gets a surprise knock on his hotel room door from none other than Andi Dorfman. In dramatic Bachelor fashion, the appearance of the season 10 Bachelorette was followed by a "to be continued" so everyone can freak out for a whole week.
Who knows, maybe Nick will end up leaving the other four women for his true love, Andi. It doesn't exactly seem like he loves any of the contestants left anyway, so it's probably for the best.
via giphy.com
The Bachelor airs Mondays on ABC at 8 p.m. ET.