We're going to need whiskey to rehash this entire episode. This Monday's episode of The Bachelor is short and not exactly sweet. Fans were ready to settle into their couches with some popcorn and a drink for a traditional two-hour episode full of fantasy suites. However, as we keep saying, Nick is not a traditional Bachelor, so of course he had to ruin this beloved Bachelor tradition. Check out the five weirdest moments from Monday's episode.
1. Nick gets some advice from his ex
The last time Andi Dorfman knocked on Nick's door, she was breaking his heart. However, this week, she shows up at his hotel door in New York to have a conversation she said "might call for some whiskey."
The two discuss the highly-contested fantasy suite date, but to everyone's surprise, he admits he might not sleep with any of the women. Andi tells him to do what he thinks is right and to not hold back.
"This is very weird getting fantasy suite advice from you," Nick laughed. He could say that again.
2. Corinne goes home
Everyone is expecting Rachel to go home this week. It's obvious Nick is sexually attracted to Corinne and would want to spend a night in the fantasy suite with her. Not to mention Rachel has already been announced as the next Bachelorette, so it seems like a no-brainer.
However, it ends up being the end of the road for Corinne, and fans have to admit it's a little sad to see her go. Everyone hated her at the beginning, but they were really starting to get used to her, kind of like a new yappy chihuahua that chews up your shoes and pees on the rug.
"I'm sorry if I did anything to make you upset," Corinne sobs to Nick. He weirdly kisses her on the forehead and tells her he has so much "love" for her. Dude, just stop. Let her go and don't try to toy with her emotions. Corinne even admits during her limo ride out she's done with men treating her like this.
"I'm done trying to show my men how much I worship them," Corinne mumbles. "I will never kiss up to a man ever again."
She just needs a nap after this week, because God knows she loves her naps. Let's hope she makes it on the next season of Bachelor in Paradise because that show seems like more of her style. Plus, viewers aren't ready to get rid of her for good yet.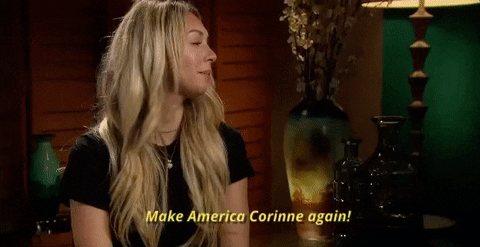 via giphy.com
3. Raven shares her real feelings
Raven has never told a man she's loved them before, until Nick. After a day of helicopter rides and drinking — like, lots of drinking — in Finland, she decides it's time to finally tell the Bachelor her true feelings.
"I do love you and it would be the worst thing I could do to not tell you that," she said.
Nick doesn't say it back — which is one thing he is better at than Ben was last season — but it seems like he wanted to.
"That was one of the best professions of love I think I've ever heard," Nick said.
4. She also gets frisky
After Raven got her feelings out and downed some more wine, she also tells Nick about her sexual history before going into the fantasy suite. She tells him she's only been sexually intimate with one man and has "never had an orgasm." Wow, she's really laying it all out there tonight.
"Lost for words?" Raven said after telling that to Nick. Even though he is acting apprehensive about sleeping with any of the women during the fantasy suite dates, Nick can't fool us. He is trying to be a better and more mature person, but deep down, all Bachelor fans know Nick can't resist temptation. Especially when someone like Raven is obviously so eager. She is putting a lot of pressure on his bedroom skills, though, so maybe he'll quit before he even tries so he doesn't let her down.
"I think tonight is the biggest night of my life," Raven said. We hope so, girl, for your sake.
5. Everything is cut short
Viewers don't even get to see what happens during Raven and Nick's romantic night in Finland. The episode ends after one hour and viewers are left unsatisfied. Also, next week is going to be a whopping THREE HOUR episode. Maybe fans will be ready for the marathon after this lackluster week, but wow that's a huge commitment. At least everybody can have some time to mourn the loss of Corinne and get the image out of their minds of Nick wearing a turtleneck on his date with Raven.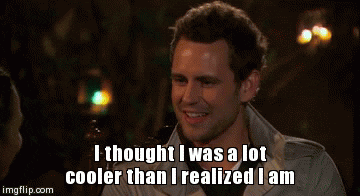 via giphy.com