The 89th Academy Awards aired on Sunday, and they did not go off without a hitch. If you missed the ceremony, check out the top 15 things you missed.
Justin Timberlake brought "Sexy Back" to the Oscars
Justin Timberlake surprisingly kicked off the Oscars with his melodious voice, rad dance moves and his Oscar-nominated song "Can't Stop The Feeling." Jeff Bridges and Charlize Theron were totally into the song. Timberlake broke it down halfway through and threw in some extremely sensual movements. He must have looked into many "Mirrors" before performing because he rocked a "Suit and Tie." He danced with his wife toward the end and got all of the Dolby Theatre to clap along to the beat. What a way to start the Oscars.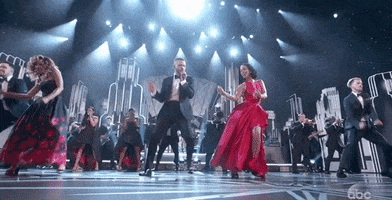 Via giphy.com
The monologue
After Timberlake's performance, host Jimmy Kimmel took the stage: "I've never been to the Oscars before. This is my first time here, and the way you go through hosts, it's probably my last time, so I'm going to enjoy it." The comedian trod lightly when it came to politics, but acknowledged how the nation is divided. "There's only one Braveheart in this room," Kimmel said, pointing to Mel Gibson, "and he is not going to unite us." He continued his monologue by thanking President Donald Trump: "I want to say thank you to President Trump. Remember last year when the Oscars were racist?" He finished by saying now "black people save NASA and white people save jazz," nodding to Hidden Figures and La La Land.
The "Overrated" Meryl Streep
Also in his monologue, Kimmel called out Meryl Streep as part of a tongue-in-cheek reference to a President Trump Tweet from earlier this year. Streep received her 20th nomination this year. "She wasn't even in a movie this year — we just wrote her name down out of habit," Kimmel said, as he led the Dolby Theatre in "a totally undeserved round of applause." The whole theater gave the actress a standing ovation, and Kimmel made one more jab at the actress: "Nice dress by the way. Is that an Ivanka?"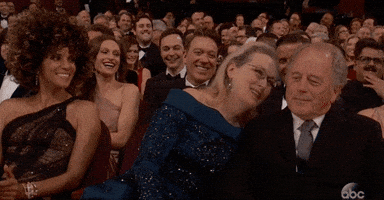 Via giphy.com

Jimmy Kimmel and Matt Damon continue their feud
Damon and Kimmel continued their long-running feud at the Academy Awards. The theme for this year's Oscars was "Inspiration" and actors paid tribute to the people they looked up to. Kimmel chose to honor rival Matt Damon and his role in We Bought a Zoo. "That's the thing about Matt, he has no discernable talent, but he works," Kimmel said. After the video, Ben Affleck and Matt Damon presented Best Original Screenplay, and Damon was announced as a "guest." Every time Damon talked, the orchestra, lead by Kimmel, would start playing. Well played, Kimmel.
Moana's Best Song performance
Dwayne "The Rock" Johnson flashed his perfect teeth on stage and sang a little bit of "You're Welcome" from Moana. The actor introduced his "twin" Lin Manuel-Miranda and Auli'i Cravalho, who played Moana. Manuel-Miranda performed a prologue in sonnet form before Cravalho began singing. She came out among dancers wearing blue outfits and swinging blue wavelike fabric. One of the dancers accidently hit her in the head, which is sure to be a meme.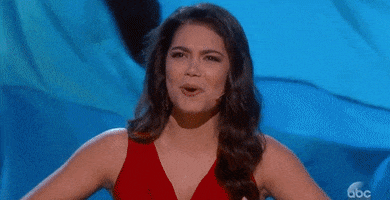 Via giphy.com
Parachuting Candies
Kimmel said you can't have movies without candy — and popcorn, but they didn't have popcorn — so he told everyone to close their eyes and wish very hard. All of a sudden, little white parachutes with a variety of candies fell from the ceiling. "Next year we should give out the awards that way," he said. I agree, it would go a lot faster. When Hacksaw Ridge won for Best Sound Mixing, Andrew Garfield yelled and showcased his fire red tongue from his candy. Taraji P. Henson was jazzed to get some food. If I had to sit there all night, I would want some candy too.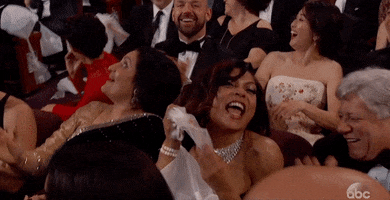 Via giphy.com
Tour bus
Kimmel convinced a tour bus to stop by the Oscars. The people on the bus were told they were going to see an exclusive exhibit of Oscar dresses, but they got to see the dresses on the real people. When the tour bus came to the theater, Kimmel had a great idea: "If everybody stays perfectly still, maybe we can convince them they're in the wax museum." Kimmel had the lighting crew turn out the lights and everyone in the theater yell "Mahershala" when they walked in. Ryan Gosling stood up and shook the tourists' hands. Jennifer Aniston gave her sunglasses to one of the ladies. All of the tourists had their phones out, and one guy got a selfie with Mahershala Ali's Oscar. I wish I was on that tour bus. I am very envious of those people.
The Lion King
Kimmel goes up to little Saroo (Sunny Pawar) from Lion and asks him if he has been eating the candy and if he wants more. Kimmel then asks if he wants to reenact the opening scene from The Lion King. Kimmel hands the microphone to Pawar and lifts him in the air. "I want Mike and Ikes," Pawar said, as more white parachutes fell from the air. Pawar and Jacob Tremblay, known for his role in Room, need to become best friends and go to the Oscars together next year.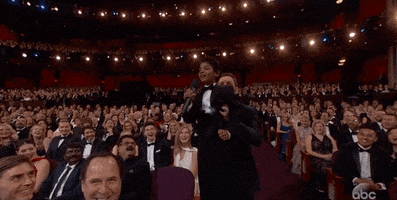 Via giphy.com
Politics in the Dolby Theatre
Even though politics were not a huge aspect of this year's Oscars, some passing comments were made in acceptance speeches and introductions. But Kimmel took it to a whole new level by projecting his Twitter on a big screen and tweeting at President Trump. See what the comedian said below.
Hey @realDonaldTrump u up?

— Jimmy Kimmel (@jimmykimmel) February 27, 2017
February 27, 2017
Mean Tweets: Oscars Edition
Speaking of tweets, Kimmel brought his late-night segment, "Mean Tweets," to the Oscars. One tweet read by Samuel L. Jackson said, "Samuel L. Jackson has a case of resting fart face."
Whoopi Goldberg, Eddie Redmayne, Lin Manuel-Miranda, Jeff Bridges, Robert DeNiro, Ryan Gosling and Natalie Portman were featured. La La Land actress, Emma Stone, read a tweet: "Emma Stone looks like a crack wh*** in every role she plays," and Tilda Swinton was compared to a dog. Nice touch, Kimmel.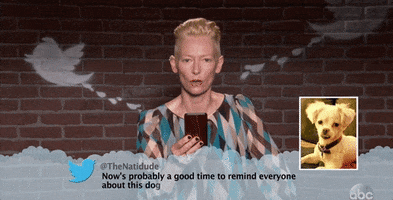 Via giphy.com
In memoriam
Sara Bareilles performed during the in memoriam section that spanned almost four minutes. Gene Wilder, Anton Yelchin, Mary Tyler Moore, Prince, Nancy Reagan, Zsa Zsa Gabor, Debbie Reynolds and Carrie Fisher were among those remembered. Though Bill Paxton was not in the video, he was mentioned beforehand. The actor died hours before the Oscars were broadcast.
Via giphy.com
Youngest Best Director ever
Though Damien Chazelle did not win the Oscar for Best Original Screenplay, the director took home the award for Best Director. Chazelle became the youngest person to win in the category at age 32. He thanked his crew, Lionsgate, the actors and Justin Horowitz. He also thanked his wife Olivia and said, "This was a movie about love and I was lucky enough to fall in love while making it."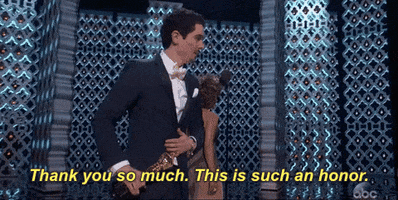 Via giphy.com
Supporting actor categories
Mark Rylance gave the Best Supporting Actress award to Viola Davis for her role in Fences, which was her first Oscar win. She talked about film and how film mimics life in her speech: "We are the only profession that celebrates what it means to live life." Davis has now won at the Emmys, Tonys and Oscars, joining Whoopi Goldberg as one of two black female actresses to win at the three ceremonies. Best Supporting Actor was handed out by Alicia Vikander. Mahershala Ali won in the category for his performance in Moonlight. The actor thanked teachers and professors, as well as Director Barry Jenkins. The actor became the first Muslim to win an Academy Award.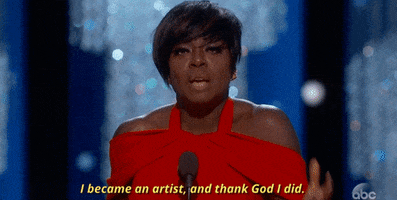 Via giphy.com
Best Actor and Actress
The Best Actress statue was given by Leonardo DiCaprio to Emma Stone for La La Land. It was Stone's first win, and she was so emotional she could barely talk. The actress thanked the other women in the category and said it was an honor to stand alongside them. She said "Luck and opportunity" played a part in her winning the award, but I truly think she deserved it. She also thanked Ryan for making her laugh, but I just wanted her to thank her ex-boyfriend Andrew Garfield. Brie Larson gave the award for Best Actor to Casey Affleck for Manchester by the Sea. It was also his first Oscar. Even though Affleck did not say very many noteworthy things, Denzel Washington watched teary-eyed while Affleck gave his acceptance speech.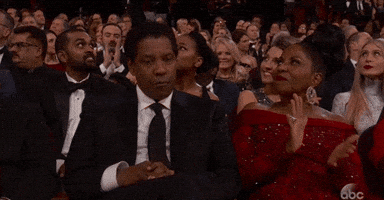 Via giphy.com
And the Oscar goes to…
Warren Beatty and Faye Dunaway presented the biggest award of the night — Best Picture. The two actors announced La La Land as the winner and pretty much the entire cast and crew went accepted the award, most of them were wiping away tears.The producers got halfway through their acceptance speech when Kimmel came out and said there was a mistake. Moonlight won Best Picture. Is this a repeat of Miss Universe? Where is Steve Harvey when you need him? This is sure to go down in Oscar history. I know I will never forget that moment.
Via giphy.com