If you grew up in the 1990s or 2000s, especially as a boy-crazy teenage girl, you had to have skimmed through at least one issue of Cosmopolitan in your lifetime.
But did you ever think about the careers and people behind our favorite lifestyle magazine?
E! has launched its newest reality TV show in the world of debatably one of the most attractive professions: a woman's magazine. In the world of the Kardashians and Botched, this show might actually be something with some real substance.
Will the show be as glossy as the pages Cosmopolitan prints on?
Let's find out.
The low down
We all remember the colorful pages filled with advice on "How to ask your crush on a date," "How to make gloss a staple of your makeup routine," and, of course, the full-page photos of our fav celebs (this one's for you, Britney).
We always thought, "WHY CAN'T I BE A PART OF THIS?"
So Cosmo is an in-depth narrative of the life of a true Cosmo girl. You can almost feel yourself in the relatable characters — all very successful, smart journalists and stylists who worked their way to the top of the food chain. They're not the privileged socialites we usually see on reality TV, but real people. That's a breath of fresh Viktor Rolf Flowerbomb if you ask me.
But we will see if the rest of the show can live up to our standards and not divulge into another episode of Vanderpump Rules.
The TL;DR
Cosmopolitan magazine has a reality show about its staff. Former Editor-In-Chief Joanna Coles surprises her staff about her switch to Chief Content Officer and announces someone will take her place. Diandra Barnwell feels sparks with new-hire hottie Evan Betts. In next week's episode, the new EIC will be revealed.
If you have time to invest in your daily drama briefing, the full recap is below.
The recap
When you work at the biggest female media group in the world, you're bound to have some sort of article, TV show or podcast about your life. So Cosmo starts off with introductions to its journalistic star-studded staff. We are talking about the best of the best in Cosmo's core topics: beauty, love, fashion, sex, relationships and "other important journalistic topics."
We meet the main narrator of the show, Editor-in-Genius Joanna Coles (former Marie Claire and Cosmopolitan EIC), who has turned Cosmopolitan into a digitized female lifestyle powerhouse. Listen, ladies: When someone asks you who you look up to, answer "Joanna Coles." She should be your inspiration.
Then we get a full, brief introduction into the Cosmo world. Remember when Andy (Anne Hathaway) in The Devil Wears Prada got her first tour of the Vogue closet and office and got to borrow clothes? This is similar, except not nearly as lavish. I was expecting the bedroom closet of Kim K, and we got more of a Blair Waldorf-worthy walk-in.
via E! Online
Still more clothes then I will ever have.
Anyway, the action starts in Joanna's office where she walks on a treadmill while reading the iconic New York Post. Talk about getting a head-start on the day. She then goes to daily briefing in one of the modern-yet-contemporary conference rooms of Cosmo's office on W. 57th St. in the Hearst building. The Cosmo squad is brainstorming stories for their next issue. The most important staff is introduced, including executive editors, directors and coordinators.
We meet Holly Whidden, Cosmo's chief-of-staff. Joanna is set to make a big announcement about change in the office and is confiding in Holly. If you know anything about journalism, you know that change usually equals layoffs, and it's always terrifying to think you may lose your job. But being the climax of the show, So Cosmo decides to go back in time.
One week earlier
Ruby Rose (Orange is the New Black, John Wick: Chapter 2) is set to be on the next cover of Cosmopolitan. Because of Ruby's tough, edgy style and personality, the Cosmo squad wants to style her accordingly. Aya Kanai, the assistant fashion director, and Holly are discussing, and Holly adds that she thinks Ruby Rose will be "bigger than Angelina (Jolie)." Although this statement is false (Angelina is the queen of action), Ruby Rose is going to be a big star.
Cosmopolitan is looking for an in-house fitness contributor and decides to interview some hunky fitness gurus for the position.
This is where we meet Evan Betts, the exotic, dark and handsome personal trainer from Michigan. Sparks immediately fly between him and Diandra Barnwell, Cosmo's assistant brand coordinator. She even goes as far as to lay on him while he does a weird ab-up thing. Could there be a work-relationship conflict in the future?
The show alternates back and forth between different departments of the mag (beauty, fitness, relationships, etc.), and we get to meet the people behind the photos and spreads of Cosmo.
We see stressed out senior fashion editors (like James DeMolet – "I'm stressed out over whether or not J. Biebs will take his shirt off or not!") and Cosmo reader nights, which are the brainchildren behind the "my worst date ever" articles.
But back to the drama.
Evan texts Nicole during work to see if she wants to get dinner. One of her coworkers reads the text and says, "This is such a guy text. 'Let me know.' As opposed to what?" Let me say, RT. Yeah, let me ignore you and not let you know. Typical dude. But Diandra decides to go on the date with the hunk.
Then, the good stuff starts. We see into the background of a real Cosmo cover shoot, every 15-year-old girl's dream. Ruby Rose is styled and shot, and we get to see the posing and shooting behind it. If you've ever envied the porcelain skin, creaseless eyeshadow and cellulite-less bodies of the women of Cosmo, this is the place to get behind the scenes.
We're back to Evan and Diandra having a drink at the bar. They are obviously into each other and even talk about their horoscopes and sign compatibility (literally So Cosmo).
But the issue arises the next day about who Cosmo should hire — perfect fit Evan or boring Steven. Everyone agrees on Evan except for Diandra, who obviously has a thing for him. In a later meeting with Joanna, Joanna slams Diandra for being so selfish and tells her she needs to "look at the bigger picture." But seriously, if you work at Cosmo in New York City, why would you let a man get in between you and your dream job? Childish.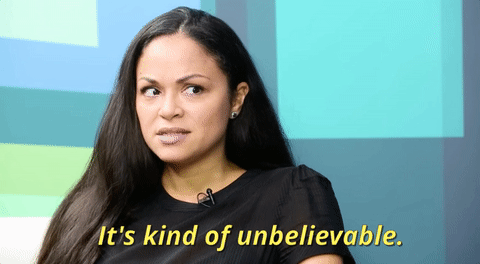 via giphy.com
In the end, Diandra is the one to tell Evan that they are hiring. He accepts, but will that endanger their future at Cosmo?
The show ends with a bang of an announcement. Joanna calls a meeting with Cosmo's staff and thanks them for the four years that she's been there. She adds that she "can't try anymore sex positions (a Cosmo staple)" with her husband. Then she drops the bomb.
Joanna decides to take the position as chief content officer for Hearst, a huge move on her part. But that leaves the rest of her loyal staff asking, "WTF?"
The newsroom is left in awe and anxiety. Will the new EIC bring in a whole new staff and fire our already-present favorites? Or will the kingdom and reign of Queen Coles remain?
via giphy.com
Keep watching.
Rating: 4.5/5