Frank Underwood fans, rejoice! Netflix original show House of Cards season 5 was released on May 30 with just as many twists and turns as the last seasons. Season 4 ended with Frank (Kevin Spacey) and Claire Underwood (Robin Wright) showing how ruthless they could be and both of them breaking the fourth wall in a creepy time in the show. Season 5 starts back up with Frank and Claire trying to get votes for their presidential election by any means necessary.
Here are 11 shocking moments from season 5 of the series. Spoilers are included.
1. Frank has National Guard members stationed at voting places
With all of the crazy things happening after Frank and Claire use terror as their running platform, Frank tries to intimidate voters by stationing troops at voting places to scare people. One woman went as far as saying "the TV told her not to vote". The astonishingly low poll numbers caused a riptide of problems, inducing doubt in the results.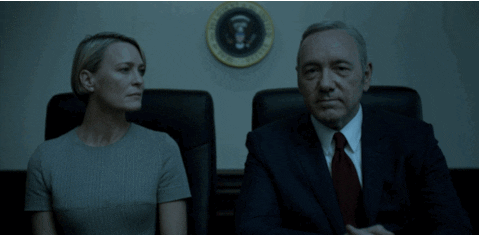 via giphy.com
2. Frank "concedes" to Will Conway
Frank calls Republican candidate Will Conway (Joe Kinnaman) and pretends to concede when the polls show Conway ahead in the popular vote. Will and his wife, Hannah (Dominique McElligott), quickly celebrate what they thought was a win.
3. Will Conway goes a bit crazy
After Will wins the popular vote, things are put on hold but he still views himself as the unquestioned president. He also hides most of his PTSD and it really shows in the scene when he demands the pilots let him fly the plane, where he said, "I'm going to be the president and you're going to flip me those motherf---ing controls." The interaction was recorded and released to the Underwoods. You can probably guess how they use it.
The Boy Wonder. My worthy opponent. Out of his element and stuck in mine. pic.twitter.com/gxUsresfgt

— House of Cards (@HouseofCards) June 2, 2017
4. There's a cult?
There's some weird cult-like group of elite businessmen and government officials. They meet in the woods to "not discuss business" but we all know they do. Frank visits to rub shoulders with other powerful men. The entire episode is kind of a bore in comparison to others, but it is still interesting to think about a cult-like group of powerful men (no women are invited) making major decisions in the woods.
5. Claire tells us why she ignores the viewers
It's normal for Frank to break the fourth wall a few times an episode, but not so much for Claire. She breaks the fourth wall by saying how she feels about the viewers. She even goes as far as directly saying "you" to the viewers. Claire tells us how she's always known that we have been here but she has "ambivalent feelings" towards us and we should not take it personally. She has "ambivalent feelings towards most everyone." How she said it was pretty creepy and made her seem a bit less human.
6. Frank shoves Cathy Durant down a flight of stairs in the White House
We all gasped at this scene and felt some deja-vu for the Zoe Barnes (Kate Mara) death scene where Frank shoved Zoe in front of a train. When Cathy (Jayne Atkinson) tells Frank she is going to testify against him, Frank cryptically tells her she "needs to take a fall". Frank ends up shoving Cathy down the stairs, making sure he is not in sight of the security cameras. We are left not knowing what condition Cathy is in at the end of the season.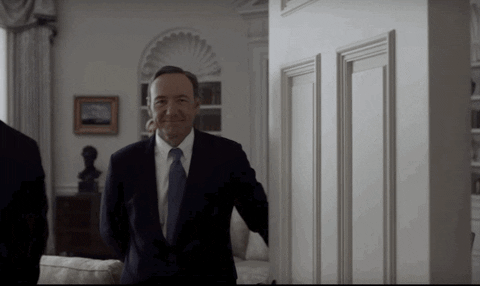 via giphy.com
7. Doug Stamper proves how loyal he is by taking the blame for Zoe Barnes' death
Frank and Claire decide to invite Doug (Michael Kelly) to dinner in the residence to "show him how much they appreciate him." Doug has always been a little over the top with his loyalty and nothing about that changes this season. The Underwoods end up telling Doug he needs to take responsibility for killing Zoe Barnes to get it away from Frank. Doug is a bit skeptical at first, but eventually obliges. Frank lets Doug take anything he wants from the Oval Office, as if that would make up for having him take the blame.
After Tom (Paul Sparks) writes a book that reveals far too much about his and Claire's relationship as well as some details about Frank, Claire decides to handle the situation herself. Tom wanted enough money to get "really lost for a while" or else he was going to publish the book. Claire ends up poisoning him with some herbal medicine Jane Davis (Patricia Clarkson), the Deputy Undersecretary of Commerce for International Trade, gave Claire for headaches but warned her about proper dosage. Claire ends up putting it in Tom's drink and has sex with him while he is dying. She leaves him and has Mark Usher (Campbell Scott), an advisor for Frank, take care of it.
I'm proud of her. pic.twitter.com/JdSS4zztRZ

— House of Cards (@HouseofCards) June 6, 2017
9. Frank resigns the presidency
Frank decides on his own that resigning so he can go into the private sector will bring him even more power than the presidency. He rationalizes it to Claire that they will not only live in the White House, they will own it with Claire as president and him dominating in the private sector. Claire was furious he did not talk to her about it. It was just flat out shocking to everyone that Frank would give up his presidency.
10. Claire doesn't pardon Frank for his crimes
Claire addresses the nation that special forces captured the terrorist from the Islamic Caliphate Organization. What she did not say was that she would pardon Frank for his crimes in the past. Frank made Claire promise to pardon him when the time was right so she did not implicate herself. In Claire's address to the nation, she basically declares war on terror happening in Syria. She makes comments about how bad of a leader President of Russia Viktor Petrov is and ends up sounding like she is talking about Frank.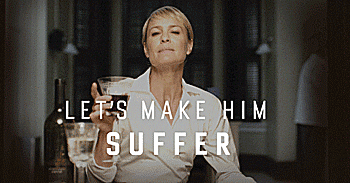 via giphy.com
11. Frank says he is going to kill Claire
During Claire's address when Frank realizes she might not pardon him, he breaks the fourth wall and says if she does not pardon him, he is going to kill her. This was shocking because of how fiercely loyal the two are for the vast majority of the series. Frank has even gone as far as saying Claire is the only person he has actually loved. Claire ends up declining all of Frank's phone calls and declares it is "her turn" as she stands in the Oval Office.