Many are poking fun of Drake's dancing and sweaters in his latest music video for "Hotline Bling," but fans shouldn't be that surprised of his love for sweaters.
Canadian rapper Drake, who is often referred to as the "6 God," should change his nickname to the "Sweater God."
The rapper released his latest music video Monday for his hit single "Hotline Bling," and the Internet exploded with a myriad of mockery and fun by perpetuating memes, GIFs and all those cybersphere gimmicks that make Drake an endless, pop culture sensation.
The Internet world of course commented on his goofy dancing, but what they were most notably pointing out was his gray turtleneck sweater that was accompanied by his light gray sweatpants and Timberland Boots.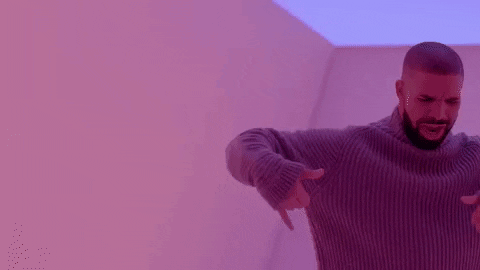 via giphy.com
Drake is seen wearing a gray, $400 Acne Studios sweater and a $240 pair of Acne Studios sweatpants, according to GQ.
Many people made fun of Drake and his turtleneck — mostly his goofy dancing, but that didn't help with his turtleneck — but I should note that his sweater game action is something that's not new to his wardrobe and style.
Drake has an "obsession" with sweaters, according to Vulture. He told the publication that he once owned more than a 1,000 sweaters, ranging from Tom Ford to Hermès to cashmere to casual hoodies and sweatshirts.
Here are several instances when he shows off his love for sweaters and fall fashion flair:
In 2011, Saturday Night Live poked fun at Drake and his fascination with sweaters. In one of the show's Digital Shorts, former SNL actor Andy Samberg did a "A Matching Sweaters Interview with Drake" in which the duo wore multicolored '90s Coogi sweaters, which are often associated with rapper Biggie. It's a prime example of his sweatery goodness.
via thr.com
After winning his MTV Video Music Award for Best Hip-Hop Video in 2012, Drake became the talk of the award show. He is seen wearing an $895 Alexander McQueen raven print merino wool V-neck sweater, according to upscalehype. I thought he looked good. Maybe others think different?
via upscalehype.com
In August, he posted a photo on his Instagram that features his old high school — well, he and his former Degrassi co-stars — at a party. He's seen, of course, in a plain crewneck, but what makes this photo pop is his crisp swagger, which is opposite of his pubescent, boyish fashion on the show back in the early 2000s.