The remaining five designers step up their game with an avant-garde challenge.
Fashion Week is approaching, and it's so close for all parties involved. Though with these high fashion designs, no one is standing out as a worthy recipient for New York's coveted week.
What screams high fashion is the typical avant-garde design — an outfit so out there, it's not usually wearable for the everyday, but it is appreciated as an artform.
Tim Gunn took the five designers to the East River as they had to create an avant-garde piece through the inspiration from one of the three bridges that span the East River. On top of this, they had to use a 3-D printer to make fabric to add onto the design.
Apparently, these printers are incorporated a lot more in fashion where the printer prints 5-by-5 inch pieces of fabric with any 3-D design. The winner receives their own 3-D printer. Merline was the only one excited about the prize. Kelly said she doesn't even know if she owns a 2-D printer.
Each designer was assigned a bridge that spans the East River as inspiration as follows:
Kelly — Brooklyn Bridge
Edmond — Manhattan Bridge
Ashley — Manhattan Bridge
Candice — Queensboro Bridge
Merline — Queensboro Bridge
Throwback to the only avant-garde look I actually remember from Project Runway, which was in season 4 with Christian Siriano. Now when I think of avant-garde, I think of this:
via ew.com
And if it's not this, I get disappointed. So thanks for that Christian Siriano.
None of them have a 3-D printer or understand what the printers are capable of. They started out by sketching with these "3-D experts" who help them on their designs.
While sketching, Merline talked about her background on architecture, and please mention architecture one more time. Please, I beg you.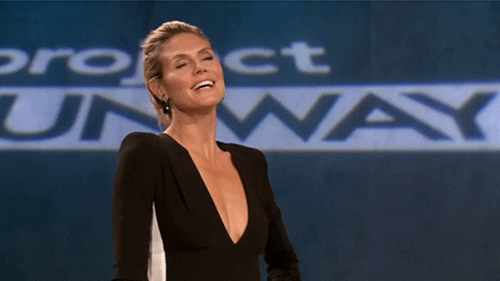 via giphy.com
Kelly took the bridge idea literally, by making her model an actual bridge.
The 3-D part continued to be confusing. Isn't that avant-garde enough? They left, and the printers worked all night long.
Tim Gunn came in the next day to look at how they planned to use their newly created fabric pieces.
Candice created a slimming shape with red and black. The 3-D fabric was edgy and hard. Ashley pushed herself to where she's not doing box pleats. Tim made Merline question everything she was doing. This should have been the challenge she has been waiting for.
Kelly's fabric choice was truly poor, but Tim liked her idea on how she was taking the bridge in a literal sense. Tim was rather optimistic about everyone, which was odd.
We heard the entire episode about how confident Merline is, but it didn't seem as if the design was much of a wow-factor or avant-garde.
Heidi Klum loved when Edmond's model came down the runway. She said it was the right amount of sex appeal and sophistication. Guest judge Mel B wanted to wear it. Zac Posen said the 3-D didn't feel as incorporated. Nina Garcia said she expected more of him.
Kelly took a risk with brown faux crocodile. Heidi said she wished there was more 3-D fabric. Zac said he felt the Brooklyn Bridge.
When the judges talked with Merline, Heidi spoke up immediately that it reminded her of a dress from last season. And right then, the judges waved it off as safe. Nina said it doesn't qualify as an avant-garde design.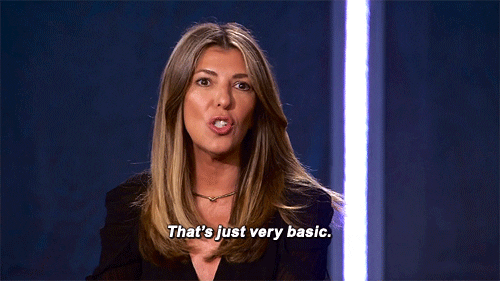 via giphy.com
Ashley brought in the drama, and Heidi said it walked beautifully. However, the application of the 3-D fabric was poor. Nina loved the cape and Zac said she stepped it up.
Heidi said Candice's design was stunning, and the 3-D elevated the whole look. Nina says there was a Spanish motif with it, but it wasn't avant-garde enough to be inspired by the bridge. Zac agreed with Nina, but her technique of the 3-D printing was the best out of everyone.
Kelly won, and she didn't even know what she was going to do with her new printer.
Mel B has an upcoming event, and she wanted to have Candice's dress to wear.
Merline was out.
Project Runway airs every Thursday at 9 p.m. on Lifetime.
@mmfernandez_
mf736213@ohio.edu