What snacks should you eat while studying? Find out here.
Finals week is already upon us, which means stress eating is too. While you're up late studying, you'll probably get those midnight munchies. Here are few snack options for you that will help you get through the stressful week of finals:
1. Nutella and pretzels
This is a must for late night cram sessions. The sweet, creamy chocolate really complements the salty crunch of a pretzel. And good news! Nutella and pretzels are both available at West Green Market District and Nelson Market!
And now Nutella and pretzels are available in this handy little container, so you don't need to worry about making a mess.
You can also just grab a spoon and a jar of Nutella and call it a day. Nutella is the best on its own.
If you are a peanut butter person (who isn't?), then feel free to mix and match your Nutella and peanut butter with some pretzels. Grab two pretzels and spread some Nutella and peanut butter on them and make a Reese's sandwich!
via reactiongifs.com
2. Trail mix
This might sound like a boring snack to some, but it is a great way to fill yourself up and feel good about "eating healthy" while still eating some chocolate. I know we all complain about the nuts to M&Ms ratio, but a good way to get past this is to also eat a chocolate bar on the side. This snack will get you full and ready to study for that biology final on Friday.
via reactiongifs.com
3. Popcorn
Popcorn is the perfect snack for studying. It will help bring some life back in you after hours of slowly dying from reading your textbook for too long. Popcorn is low in calories (except for when you get the extra buttery kind), and it is a good snack that you can munch on for hours on end, providing the perfect distraction from the agonizing study night.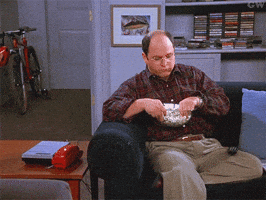 via media2.giphy.com
Still need convincing? Just look at Jimmy Fallon eating popcorn.
via media0.giphy.com
4. Wings Over Athens
This doesn't need a lot of explanation. Wings are a way to spice up your studying! Yes, it's a little messy, but who cares? If you like wings, then go for it. Order wings for delivery in the library and just go for it. You do you.
Mr. Bean knows how to eat wings. via media.giphy.com
Wings Over is open 4 p.m. - 1 a.m.
5. Burritos
You can argue burritos aren't really a snack, but why should you? If calling a burrito a snack makes you feel less guilty for eating them at 3 a.m., then go for it. Lucky for you, there are many options for a late night burrito on campus.
Here are your options:
Chipotle Mexican Grill: 10 a.m. - 10 p.m.
Big Mamma's Burritos: 11 a.m. - 3 a.m.
Burrito Buggy: 11 a.m. - 2:30 a.m.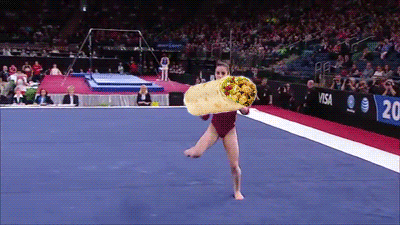 via media.giphy.com
Don't stress too much about finals week! No matter what snacks you eat, you will get through it, and Winter Break will come quickly!
@jess_hillyeah