'Project Runway: Junior' tries to take the glitter out of the Knicks City Dancers in "Superstar Clients." 
The lights are low on the runway and the seven designers cluelessly sit in the dark when all of a sudden the Knicks City Dancers stomp on out with a showy performance. The teens clap after the routine, but sit wide-eyed silently begging they don't have to design a glitter-coated spandex nightmare for these women.
In "Superstar Clients," Hannah Davis comes out and confesses that these are their clients, but the dancewear will stay in Madison Square Garden. Everyone sighs with relief, as they get paired up with a Knicks City Dancer. And no, Amy Schumer is not one of them.
The dancers go back to the workroom and begin the Project Runway experience by describing their style and personality to the designers. They spend a significant time sketching and do not go to Mood. Mini-Mood is a thing now, and the show's being stingy on which episodes they're shelling out cash for.
After the brainstorm sessions, one thing is certain is that these girls love to party and to be social. Maya is asked to create a New Year's Eve outfit. Bridget is supposed to make a "boho, grunge" look and there's a 50th anniversary party dress Peytie is making thrown in there.
Tim Gunn comes in after the designers work for a few hours, and he's semi-impressed with what they have so far.
Jaxson uses a triangular print skirt with a "janky," poorly constructed top. His client, Jessica, asked for a vacation outfit, but the look isn't cutting it. They go pick out a different fabric, and Jaxson feels better about the look.
Peytie is stressed and this wedding anniversary party outfit is is throwing her off. Tim tells her not to scrap the design but modify it with another fabric.
Samantha's client is in college studying business administration and wants to have a professional look. Tim doesn't hate it, especially because she uses neoprene for a bomber jacket.  
Bridget tries to do a day-to-night look and for some reason she thinks Bohemian translates to a muslin and a kimono.
Zachary is designing for Alyssa and they both have the same elegant and refined style. He makes a flowy pant for a "night out in Paris," but it's not constructed well, which is unlike him.
Maya wants pants for her New Year's Eve look, but it's boring and all black. She looks back to mini-Mood for a shinier fabric for the top.
Zach's client Julia wants a Sunday brunch romper or dress. He gives her a skirt or a top. Tim says the piece is "humdrum" and "basic."  Well, considering this client wants an outfit to recreate Sex and the City lunches, you can't get more basic than that.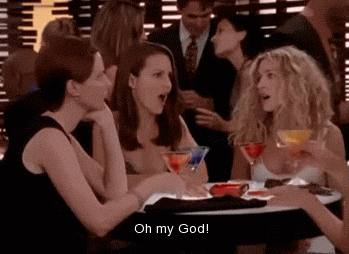 via giphy.com
The dancers come in for a fitting, and it's pretty smooth. The next day comes around and everyone has A LOT to do. The women come back in to get ready, but everyone is still sewing. Zach is done for once, so mark that in the books, but Zachary is a sweaty wreck with handstitched back.
The runway show starts and all I can focus on is how Christian Siriano is wearing that seafoam green cabana shirt for the third time — that's 50 percent of the episodes. The judges announce Peytie is safe.
While Hannah praises his construction and fabric choice, Zach does a salsa dance with his dancer. Christian appreciates the polished feminine yet bold look. Aya Kanai sees the versatility Zach has in his looks and hopes that ends up being his signature.
via ew.com
The New Year's Eve look ends up not as fun for Maya. The tailored pants are beautifully made, but Aya doesn't see Maya's voice. The consensus is "it's fine" — nothing special. It's a gorgeous outfit, but not go-crazy-until-midnight gorgeous. If it's not what she was supposed to make, then I'd like to hear that from the client. Throughout these critiques, not once do they ask the dancers if they are happy with their look. The theme of these kinds of episodes is always about pleasing the client, and these City Dancers stood there as if they were regular models.
via ew.com
Zachary thinks of everything — the olive green color matches his client's eyes. Aya loves the deep V and is balanced with its chic look. The only problem the judges have is the hem of the flowy pant. They all agree he has a bright future.
via ew.com
Bridget's dancer is going to Barcelona, but the boho look is not great for a white cotton piece. Christian says it's a big mess. Aya reminds her the show is Project Runway not "Project Bargain Basement." She created clothes — not fashion.
via ew.com
Jaxson's client is going on a family vacation in Aruba — clearly everyone needs to start working for the Knicks. Jaxson's work falls short. His skirt is called a circus tent from the waist down. Hannah and Kelly Osbourne want to like it but cannot find more than a few positive words. The imagination is there, but again he fails in proper construction.
via ew.com
The first words that come out of the judges' mouth is the Samantha they know is back in action, and I simply CAN'T. Her androgynous aesthetic is just too much in this episode. Maybe Samantha is too hip or cool for me, but the look on her client says it all. There is not one smile or positive vibe from the dancer that gives us the hint she likes the orange top and yellow/green jacket. The jean skirt is poorly constructed, but they all love it.
via ew.com
Zach wins — thank goodness — while Samantha and Zachary are also in. Maya, Bridget and Jaxson are in the bottom. Maya is safe, and I bet her "Fashion is my favorite F*Word" shirt had something to do with it. Bridget is out.
In the judges' eyes, she was unwilling to try, and Jaxson's whimsicality and poor execution trumps her attitude. We'll miss your purple hair, Bridget.
@mmfernandez_
Mf736213@ohio.edu