There are a lot of football films out there, but these nine top the list of the ones you should watch to get excited for Super Bowl 50.
With less than a week to go before Super Bowl 50, how can people get into the football-watching mentality? Well, you can watch football movies — that'll get your adrenaline pumping. There are so many football movies out there, so it can be hard to choose which ones to watch.
We've got you covered. Here are some of the best football films of all time:
1. Radio (2003) — Cuba Gooding Jr. stars as Radio, a mentally disabled teenager that collects and listens to radios day in and day out. When he is harassed by the football team, the coach starts to look after him. Radio is based on true events, which makes it special. You might just shed a few tears during this film. It's one of those movies that makes you believe there are good people in this world. I highly recommend you watch this film if you haven't already.
via starpulse.com
2. Little Giants (1994) — Rick Moranis, who plays the father in Honey, I Shrunk the Kids, is a football coach in this film. Hard to believe, right?! Ed O'Neill plays his brother who coaches a pee-wee football team in the small town. Moranis' character starts his own team of not-so-athletic children and goes up against his hot-shot brother who has the all-star team. The kids are what make this film memorable. They are not the kind of kids you would expect to see out on the field "roughing it up." This is one of the few light and funny football films. It's the perfect movie to watch if you want a good laugh.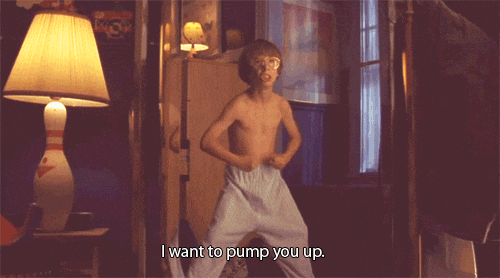 via giphy.com
3. We Are Marshall (2006) — Based on the true story of a plane crash that killed members of the Marshall University Thundering Herd. The story focuses on the aftermath of the plane crash and how coach Jack Lengyel (Matthew McConaughey) rebuilds a grieving team. You really start to feel for not only the players who lost teammates, but also for the people of the town who lost their pride and joy. This film is about overcoming unexpected obstacles — which we all have to do sometime or another. 

via tribute.ca
4. Remember the Titans (2000) — Set in 1971 Virginia, Remember the Titans tells the story of the first season of an integrated football team and its black head coach. This movie has a fantastic cast including Denzel Washington and Will Patton who deliver performances that are captivating. The most notable scene in this film is when the team is in the locker room and they start singing "Ain't No Mountain High Enough" and Ryan Gosling shows off his mad dance moves. Which, to me, is reason enough to watch the movie.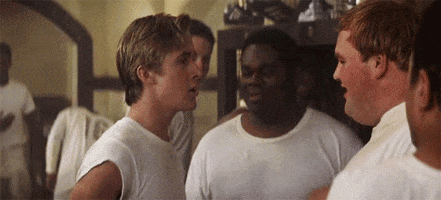 via giphy.com
5. Invincible (2006) — Based on the true story of Vince Papale (Mark Wahlberg) and his long journey into the NFL. Papale was a 30-year-old bartender who dreamed of being in the NFL. Despite his age and the small likelihood that he'll make the team, he tries out for the Philadelphia Eagles anyway. This football film isn't widely known, but it doesn't take away from the fact that the story and the characters are great. If you've always dreamed of becoming a pro football player, this is the movie for you. Okay, even if that isn't your dream, you should still watch it. 
6. Friday Night Lights (2004) — Friday Night Lights is set in Odessa, Texas — a small town that prides itself on the being high school football team that always wins. This film explores the pressures that small-town athletes face as the citizens' only enjoyment comes from watching the football team play under the lights on Friday nights. Those pressures lead to some unexpected twists and turns. This is a story I'm sure we all can relate to.
7. The Longest Yard (1974) — When professional quarterback Paul Crewe (Burt Reynolds) is sentenced to prison — totally relatable to the NFL these days — the warden asks him to form a football team with the other inmates. This should go well, right? There is also a 2005 remake that stars Adam Sandler — that's how you know the movie is going to be full of comedy.
via prisonmovies.net   
8. Rudy (1993) — This movie is truly a classic and it will have you chanting "Rudy!" by the end. Sean Astin — known for The Goonies and The Lord of the Rings trilogy — portrays the title character. Despite his small stature, Rudy had aspirations of becoming a college football player for Notre Dame. He has a whole bunch of people telling him he can't do it, but does he listen? No! He overcomes — which is a common theme in sport movies. It just goes to show that if you have enough passion and drive, you can do anything. 
9. The Blind Side (2009) — The Blind Side is based on the life of offensive tackle Michael Oher (Quinton Aaron) — who plays for the Carolina Panthers, a team competing in Sunday's Super Bowl. If you haven't seen this film, you must be living under a rock because it's spectacular. Sandra Bullock, who plays Oher's adoptive mother, Leigh Anne Tuohy, won an Academy Award for her role in the movie. The character that steals the show is Michael's younger adoptive brother S.J. (Jae Head). He is the cutest and orneriest kid — which is why he's so lovable. The film is charming, funny and sentimental. You should definitely watch it before Super Bowl 50.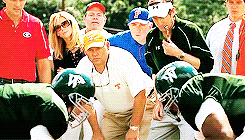 via giphy.com
So, put on your football jerseys, lay in bed and watch these famous football films and get ready for the big game.
@georgiadee35
gd497415@ohio.edu