Kaitlyn is announced as the next Bachelorette and a recap of the first rose ceremony of season 11.
After the first part of a two-hour premiere of The Bachelorette Monday night, we were left contemplating the burning question for the next 21 hours: who is the next Bachelorette? Will it be Kaitlyn, a dance instructor with a big sense of humor, or Britt, a waitress who, um, seems to cry a lot?
A part of me thought the producers would employ some twist and somehow pick both, but within the first few minutes of the episode, Kaitlyn was declared the Bachelorette. Yay!
While I certainly feel bad for Britt, I was never a huge fan of her. And her "I didn't see that coming" comment didn't help either. Come on, Britt, you had a 50/50 shot. Even more, she was a flip-flopper (like plant-healing Tony, whose original feelings for Kaitlyn were overshadowed for feelings for Britt and then moved back to feelings for Kaitlyn when she was declared bachelorette. Yikes.) So I'm pretty excited to tune in to the rest of the season with a funny, charismatic and real-deal type of girl.
After the initial shock of being the Bachelorette fades, Kaitlyn realizes that she has to send some of the guys home. But first, they have time to chat. Cute Ryan Gosling-lookalike Shawn gets the first impression rose, and dentist Chris moves in for the first kiss. Yay! In case you forgot, he's the cupcake-car-man who I've been a fan of since the second he stepped—er—rolled into the show. Even the show's official cast list gave him the nickname "Cupcake." But hey, other guys, can you please give them a moment and stop watching them make out? Just because you didn't think of the idea to roll in in a cupcake car and steal her first kiss, doesn't give you the right to be mad.
@kellyoxford pic.twitter.com/SvbXnkk9bR — Brice Sander (@bricesander) May 19, 2015
As she continues to talk to each guy, the guys gossip in the house about who they voted for. Personally, I'm wondering why they're being so open about their picks on the girls. If I was in their shoes, I would have kept an open mind and kept my original opinion of the girls on the down-low. And if the girl I had my eye on didn't make the cut? I'd run after her.
Which is why I'm so glad that Brady, the singer-songwriter, ran after Britt. Good for him. I'm honestly surprised more guys didn't. Although, I do feel as if the producers told him he had to interrupt the rose ceremony — #drama! — to perform the stunt, which wasn't cool. Host Chris Harrison waiting for him upon his exit and the shot of Britt crying in her hotel room before Brady came in didn't make it look staged at all!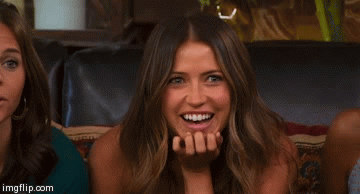 Back at the rose ceremony, Kaitlyn hands out all her roses, therefore sending home a few guys whose names no one probably remembers. Except hot-tub-sex-coach-guy. Yeah, he needed to go.
But let's get to the best part: scenes from the rest of the season.
I'm SHOCKED to see Jared looking like he makes it pretty close to the top. He's the one who received the last rose after admitting to Kaitlyn that he voted for Britt. There's a clip of him telling Kaitlyn he's falling in love with her. I can't help but think that if I was Kaitlyn, I'd probably hold the Britt thing against him forever. That's not something you just forget, and it looks to me like this is going to be a season-long issue.
Oh, and what the HECK is Nick Viall doing here? He's the smelly salesman who somehow made it to Andi Dorfman's top-two last season and tried to publicly embarrass Andi on national TV. WHY is he making out with Kaitlyn?! Seems to me like there's going to be some tension at the next Bachelorette brunch.
The Bachelorette airs Mondays at 9 p.m. on ABC.
rh375113@ohio.edu
@rachel_hartwick