Nine years ago bees gained their stripes when Bee Movie came out and showed them in a new light.
Ever since the world has been buzzing about a sequel.
In July, Jerry Seinfeld, the creator of Bee Movie, teased at the idea of a Bee Movie 2 in a tweet, nine years after the buzz-worthy original came out. Just as movie fans got their hopes up, Seinfeld published a stinging tweet saying cartoons are dead. However, Seinfeld must be mistaken because the world needs a Bee Movie 2 now more than ever.
Earlier this month, seven species of bees that are native to Hawaii were put on the endangered species list. Some bees are literally dying, and humans must learn to protect them. What animated movie taught the human race to not mess with the bees better than Bee Movie? Exactly, none.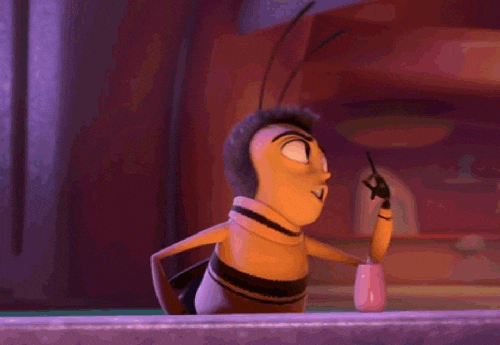 Via giphy.com
Bee Movie told people that if we don't have the bees pollinating flowers and collecting nectar, that the natural world around them will literally die. It taught people not to overwork the bees either because they are CLEARLY capable of revolt (Considering Barry sued the entire human race and WON in the movie.)
Beyond the serious implications that a second movie is necessary for the survival of bees, the movie was cinematic gold — honey-colored gold, that is. Can a viewer really ask for more than watching cute, little bees floating in pools of honey and wearing bomber jackets? I don't think so.
You also can't leave out the fact that the main bee is the literal insect form of Jerry Seinfeld. Seinfeld went on for nine glorious seasons because of the comic genius the show is named after. The show is still loved by multiple generations and serves as inspiration for modern comedians. Bee Movie holds true to Seinfeld's legacy, and that legacy would continue if there was a sequel. Jerry Seinfeld needs to use his fame and comedic voice to teach people a lesson about taking the bees seriously.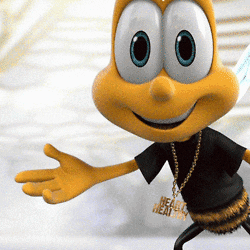 Via giphy.com
If you still need more convincing a sequel is necessary just sit back, relax and watch Bee Movie. You will not be disappointed. If you are now sad you don't have enough bee content in your life buzz along to this bee-themed spotify playlist. Here's the breakdown to what made the cut for the ultimate bee tracklist.
1. "Imma Be" by The Black Eyed Peas
Does this one really need explanation? Can't you just imagine a little bee jamming out to this track and being loud and proud of his or her stripes. "Imma Be" is a certified banger.
2. "Buzzin'" by Shwayze
This song just reminds us of bees flirting. This is the ultimate bee pick up song. I bet Barry would have played this for Vanessa in the Bee Movie to make her fall in love with him.
3. "Beez In The Trap" by Nicki Minaj feat. 2 Chainz
This is the ultimate song for any boss bee. I bet a bunch of bees would like to listen to this before getting ready to go out of the hive on a Friday night.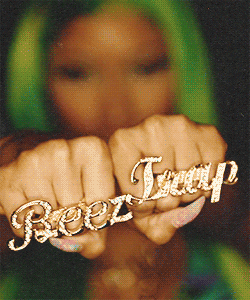 Via giphy.com
4. "Sugar, Sugar" by The Archies
The unofficial theme song of the Bee Movie just reminds us of a bunch of bees hitting a nice flower patch on a warm sunny day. The song is also so sweet like honey.
5. "Honey" by Mariah Carey
Honey is the center of a bee's life so it's only fitting that this playlist needs a soulful song by Mariah Carey herself to pay homage to the staple.
6. "Honey, I'm Good." by Andy Grammer
This song is very happy-go-lucky, much like many honey bees. But when listening to the lyrics, the song has a bit of a sting as Grammer shuts down a romantic pursuit.
7. "Honey Bee" by Blake Shelton
Many country songs feature talk of the tasty honey produced by bees. Of these the most popular comes from Shelton. We can totally see a cute, country bee in their cowboy hat bumpin' to this as they pollinate some wild flowers.
8. "Flawless Remix" by Beyonce and Nicki Minaj
You already know Queen B herself had to make an appearance. Bees are probably Beyonce fans because let's face it, who isn't.
9. "Black and Yellow" by Wiz Khalifa
Wiz Khalifa sings about the permanent uniform of the bees. The bees gotta throw what they know, and they are definitely experts of all things black and yellow.
10. "Bumble Bees" by Aqua
This song is like the bee clubbing song. It's pop-sound reminds us of a bunch of bees buzzing around in a hive. It really conveys the energy bees have because those little buggers really do not stop.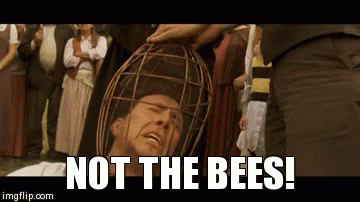 Via giphy.com
11. "Here Comes the Sun" by The Beatles
Another track featured in the Bee Movie reminds us of a happy world full of hard-working bees. It's the feel-good track of the movie that let's the viewer know that everything is alright because the bees are pollinating again.
12. "Love Buzz" by Nirvana
Although most bees just seem cute and cuddly, some are dark, emotional and ready to sting. Nirvana is singing to these grungy bees.
13. "Stingy" by Ginuwine
This is the sensual bee song that bees really like to groove to, or at least that's what we think.
14. "Just like Honey" by The Jesus and Mary Chain
"Just like Honey" is perfect for the bee playlist because it compares a woman to honey and talks about a busy beehive. Totally Barry-approved.
15. "The Bee" by The Sugarcubes
Björk's distinguished voice singing about a bee along with the playful melody of the song makes this an under-rated bee track.
16. "Flight of the Bumblebee" by Nikolai Rimsky-Korsakov
It's only fitting to end our playlist with a song that inspired bee beats for years to come. Nothing captures an energetic, little bee buzzing to pollinate some flowers like the iconic, classical tune.
Keep on buzzin'.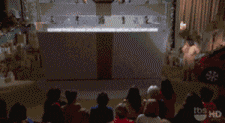 Via giphy.com