If you still don't have a costume, there are plenty of simple DIY options.
It's almost Halloween, which means ghosts and ghouls will be taking over Court Street.
But when you're a college student with little time and little money, a homemade costume might just be the way to go. Instead of dropping $50 on a costume at a store, here are some costumes you can make with objects in a common dorm room:
1. Mummy
This costume is rather basic, but it's also pretty simple. All you need is some toilet paper and you're ready to roll!
Fun Fact: Mummification took place in ancient Egypt. It was a religious ritual to prepare a high-class person for the afterlife. 
What you need: Toilet paper, and probably some tape or pins
via randar.com
2. Miley Cyrus
 There are so many sides to Miley Cyrus — and that doesn't mean Hannah Montana. Here's two sides to the artist.
"Wrecking Ball" Miley
What you need: A gray ball and a white outfit
Miley Cyrus from the "23" music video
What you need: a red jersey and preferably some red pants
Bonus: a tiny black purse or a letterman jacket
3. Rock, Paper and Scissors
If you're looking for a quick group costume, you're in luck. Grab two of your friends and you're already half way there. Using cardboard is probably going to be your best bet because no one should be running around Court Street with rocks or scissors. Keep it safe!
What you need: Cardboard, coloring utensils and string
4. Emoji queen
Because of Apple's inclusive emojis released in February, everyone can be a queen.
What you need: Red lipstick and a gold paper crown.
5. Knight in shining armor
If you were ever looking to sweep someone off his or her feet, dressing up as a knight in shining armor might just do the trick.
What you need: Tin foil and some tape
Bonus: Have a horse head on a stick or better yet, have a friend dress up with a horse head to be your sidekick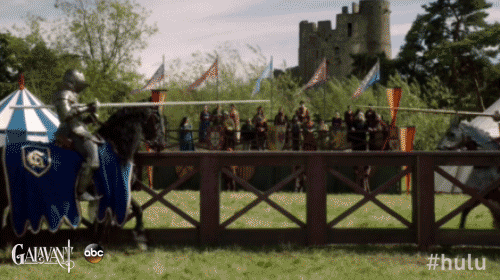 via hulu.tumblr.com
6. Skittles
Rather than tasting the rainbow, be the rainbow!
This idea can easily be modified for a group or an individual. The best part about it is beginning able to dress extremely comfortable. The only add-on is a paper "S."
What you need: Pants and a shirt that are the same color, cardboard and some tape or pins
*Cut out an "S" and pin it on your shirt
via skittles.com
7. Minion
The minion craze became even crazier this year when Minions hit the theaters in July. BuzzFeed went crazy with minion quizzes, listicles and DIY projects. The New York Times wrote about how minions transitioned from comedic relief in Despicable Me to being center stage in their own movie.
Continue the craze this Halloween.
What you need: Black shoes, a yellow shirt, blue overalls, black sunglasses or goggles, and black gloves
via 8ast.tumblr.com
8. Regina George
Keep fetch alive and be Regina George for Halloween. An old tank top and some scissors will do the trick. Everyone knows that when Regina George wore army pants and flip flops, everyone wanted to wear army pants and flip flops. Be a trendsetter!
What you need: Old tank top and scissors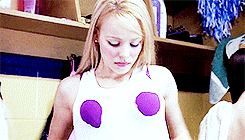 via giphy.com
9. Athens Brick
Put an Athens twist on your costume. Rather than stealing an Athens Brick this Halloween, why not be one?
Fun fact: Stealing an Athens brick could result in jail time.
What you need: A box and a black marker 
There is no excuse for being costume-less on Court Street this Halloween! Have fun and be safe Bobcats! 
@liz_backo