Last week's episode of How to Get Away with Murder, "It's Called the Octopus," seemed to show an angier side of Annalise, but many of her woes are catching up with her
Annalise (Viola Davis) and the team were really turning up the heat in last week's episode of "How To Get Away with Murder" with all the sexual babble, lies and of course, shocking twists and betrayal not only in, but also outside the courtroom.
The quick flash-forward scenes from the last few episodes are slowly piecing together the mysterious puzzle as to who might have shot Annalise. The latest episode picks up with a distressed Nate (Billy Brown) speeding down a country road calling Annalise's cell phone, hoping she picks up. Of course, Annalise does not pick up the phone because she is lying on the Hapstall's living room floor in a pool of blood. Within the same sequence, we find out that the Keating crew is running in the woods until Nate's car pulls over to the side. Once Nate is pulled over, he catches the students hiding and tells all of them to get in as they drive away in silence and frantic panic. The suspense is killing me.
Can we talk about Annalise and her heavy drinking in this episode? In the beginning of the episode, she is seen reviewing all the evidence from the Hapstall case and it seems as though every time she finds a dead end or a reason the siblings could be guilty, she takes a shot of vodka. As much as it may seem that the stress from the case is causing her to drink, I think there may be something else that's eating Annalise up deep down inside.
I enjoy that this season has shown different sides of Annalise's character like when she danced with her students or when she confessed her love for Nate and Eve (Famke Janssen), which showed a softer and sensible side to her character. But I think the show should do a better job of illustrating Annalise's true emotions and feelings. For example, we can suspect that Annalise's heavy drinking might be because of her coping with loneliness, since her husband Sam is dead; Nate, her current boyfriend, refuses to talk to her; Eve, her current lover, just left the city; and now Wes (Alfred Enoch), her closest student, is starting to become distant — but maybe for good reason. Ultimately, I would like to see more vulnerability to Annalise's character instead of the angry black woman who puts fear into her students and fellow colleagues.  
Total side note, but who has a student on speed dial and calls them over to their house in the middle of the night to kill a mouse in their basement? Wes and Annalise, this relationship you two have really needs to be explained because if not, I might just suspect that some sort of weird, romantic relationship is going on there. Out of all her students, why is she the closest to Wes? Sure, it may have something to do with Rebecca, but this close "relationship" has been occurring since the first season.
I need answers for real.
Annalise and the team pick up another new case. This time, the client who owns a sex club called Utopia is charged for murdering a married man while "doing her job" at the club. The conversations in the courtroom surrounding the laws of sex work and legislation provides a perfect segway into understanding contemporary critical conversations surrounding the concepts of the criminalization of sex workers and the problems of sex-shaming in modern society.
Laurel (Karla Souza) calls out Asher (Matt McGorry) as he tried to sex shame the client and says "sexuality is something to own" and you should not be embarrassed to express it or flaunt it, even if society shames you. Yas Laurel for the bomb answer!

via giphy.com
Of course, there was more continuous sex-shaming of the client in court, but Annalise pulls together a win after basically spinning the case to target the wife of the murdered husband. Again, the client was found not guilty, but she did have a few words for Annalise, asking how can she sleep at night after not feeling any remorse for blaming the wife?
Her response slays:
via htgawmgifs tumblr
Annalise receives an invitation to attend her client's sex club. We're led to think that Annalise is getting dolled up and throwing on a little sexy black dress for a night of fun at the club, but she decides to visit Nate.
Nate, of course, rejects her visit — I mean she did blame him for killing her husband and he went to prison for it — but once he rejects her visit, we see Wes standing inside the kitchen corridor viewing the interaction between Annalise and Nate. Something tells me that Wes is on to something and might be sick of Annalise's lies. What's going on? I need to know before my head explodes!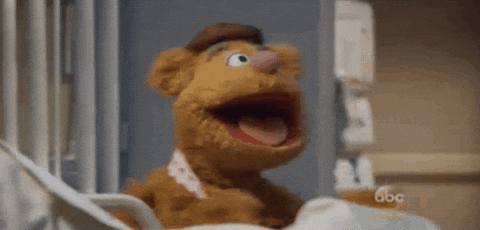 via giphy.com
Also, Frank (Charlie Weber) and Laurel go on one of their annual stakeout dates — they must enjoy spying on people — where they attempt to continue to "get to know" one another. While talking, Frank alludes to some of the "bad things" he did in his past life before becoming part of Annalise's team. Frank immediately regrets telling Laurel about his past life. Obviously, Frank hinting at all the bad things keeps us on edge. We want to know all the secrets that Frank has been hiding.   
Plus Asher seems to find himself in trouble as well. Asher goes to his dad, who is also a Supreme Court judge and well-respected figure in the law, because of some sort of trouble over a girl named Tiffany. Of course, we again are left with unanswered questions pertaining to what happened and why Asher is in so much trouble.
Lastly, Levi (Matt Cohen) and Wes apparently know each other. It's a small detail that was left out in the last episode, but we ultimately discover that both are and trying to figure out what happened to Rebecca since she has been MIA.
I always find it awkward when characters don't know who killed their friends but the audience does. Sometimes, I just want to tell Wes to give up because your homegirl has been dead since the end of season one.  
Each episode seems to get stranger and stranger, but they keep fans on the edge wanting more as unsolved questions are slowly revealing answers and more questions arise as we start to piece together who shot Annalise.
How to Get Away with Murder airs Thursdays at 10 p.m. on ABC.
@its_candicew
cw873012@ohio.edu