The judges did not do the predictable cop out with a Tim Gunn save.
After this episode, none of the four designers will be able to utter the phrase, "Never have I ever cried on Project Runway."
The scrutiny and stress from the remaining four showed how hard they all wanted to fight for the three spots waiting for them at New York Fashion Week.
The fight was brutal in "Roll Out the Red Carpet," where the designers had to create a red carpet look. Tim Gunn pulls out tickets to take them to Los Angeles for inspiration and have them construct their designs there as well.
Ashley is nervous because she designs for the everyday girl, not red carpet. And Kelly says she doesn't travel by repeatedly referring to the deli she worked at back in Boston.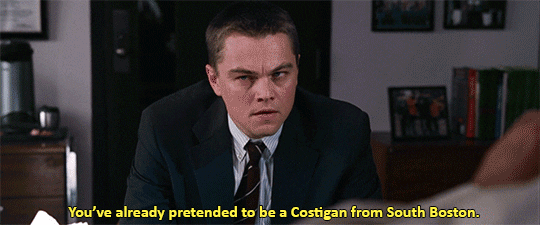 via giphy.com
They arrive and Tim takes them to someone's house overlooking the Hollywood Hills to sketch and meet Keltie Knight, a red carpet correspondent. My first question is whose house is this and who did Tim know so the designers could crash there for a few hours?
Knight notes how important the "Who are you wearing" question is and how the red carpet is a "platform for high end glamorous fashion forward looks" for whatever event. Knight says the three components she looks for in a piece are drama, color and fit. She urges that it's not a time to play it safe.
Kelly is fazed by the $400 budget they are given. She says her Honda costs $500 a month.
Ashley and Edmond find both find material that is full-blown sequins. Candice buys fabric with components of sequins in it. Edmond and Ashley bought enough for two designs just in case Tim hates the first look. Waste of time.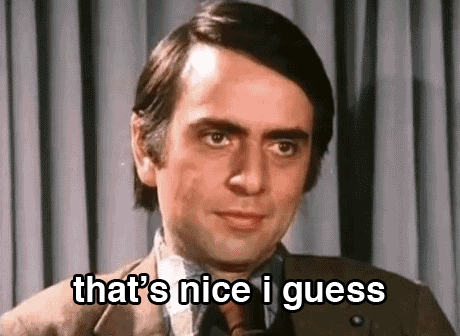 via giphy.com
Their workroom is at the Fashion Institute of Design and Merchandising in Los Angeles, where Edmond is second-guessing his fabric as soon as they walk in. Scared and afraid of screwing it up, he spends hours staring at the potentially gaudy fabric wanting it to "speak to him." It's a bad omen.
Just like high school seniors, the designers are looking at their lasts: their last challenge, their last work day and their last elimination.
It's difficult for the designers to ignore who might being going home because there is a 25 percent chance it is them. No one wants that, but then they start evaluating who that person might actually be with every stitch each opponent makes.
Candice is sure Ashley has not found her signature yet, though she feels everyone else has.
Again Ashley is lost in beginning the gown. She says in the confessional that she is tired of not believing in herself. We are too Ashley. PLEASE gain some confidence. She's such a downer.
Kelly seeing triangles onto her gown which will take her 25ever.
Candice figured out less is more when Tim comes in for critique: no gold trim and less of a train. Everything has to be flawless if it's going to be simple.
Tim told Ashley that her plan B dress is a throwaway. He takes this critique as "a responsibility to be direct" with Ashley to tell her that she is over-designing. Candice and Kelly have popcorn while watching Tim with Ashley.
via reactiongifs.com
Kelly has a long skirt to go with these handmade triangles that she's sewn under the material. Tim asks if she's a long skirt person, and Kelly says what she really wants is to make a pantsuit, but for the red carpet?
Edmond doesn't believe in the jumpsuit, but he has his own struggles. He creates this fuchsia dress, and Tim wants him to use the sequins material that has been mocking Edmond all through the challenge.
Edmond finally trusts himself, but the silhouette is sleeveless and basic. Dramatic music starts up as the camera go back and forth between Edmond and his pair of scissors. He finally makes the decision to cut the gown shorter and shorter and add flowy sleeves.
The group heads back to New York, and Kelly is nervous. There is no stretch or give to her pants, and she is afraid to break the zipper when her model steps in the pantsuit. But then it finally goes up and looks like second skin.
Ashley's gown is supposed to be one-sleeved, but she plays it safe and puts a strap on ot to avoid a wardrobe malfunction.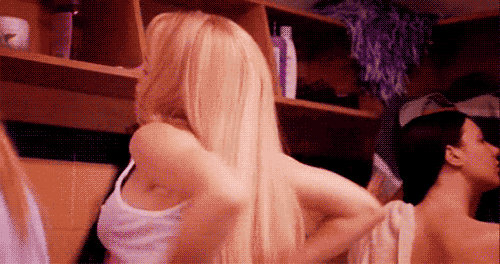 via giphy.com
Edmond has the dress on his model and cuts it even shorter. Of all the challenges to be scissor happy on.
Candice's design fits like a glove, and she declares hers as perfect. She says she doesn't see perfection in Ashley's and Edmond's. All of the designers begin to cry in the confessionals for the possibility of their dreams coming true. Even Edmond tries to stop himself from tearing up.
Runway is happening, and the stakes are extremely high. The episode comes to the moment where any decision could be made for any of the designers' fates and the anxiety is real.
They saved the best guest judge for last. Christian Siriano, the winner of season four, is here and brings my 2007-self great joy.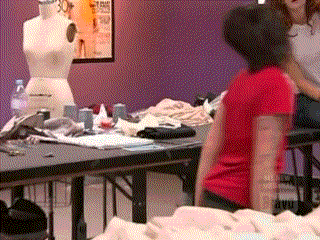 via media.giphy.com
Heidi Klum loves Candice's more quiet and sophisticated dress. Zac Posen thinks it's safe, but says it's tasteful and "red carpet ready." Nina Garcia doesn't think it's best dressed, but gives her another perspective on how Candice can create fashion.
via mylifetime.com
Kelly keeps surprising the judges in every way with the model's amazing fit in the jumpsuit. Christian thinks it's cool and sees the femininity. Zac likes textile, and that it's very Kelly. Kelly turned Nina into a believer in how she has become much more refined in her signature and found her inner strength.
via mylifetime.com
Heidi is not so sure about the silhouette in Edmond's look. Nina thinks this is the biggest disappointment of the four. She likes the shortness because it's a risk, but hates how the fabric has taken over his voice in the piece. Christian says there are girls who would wear this to an event, but it's just not fashion-forward. Zac is shocked that this was his piece that went down the runway. The only ways he could be saved is from Tim Gunn's save or because he took a risk.  
via mylifetime.com
Christian thinks Ashley's piece is fabulous with the matte shine and not having "dated promy feel." Christian did point out the fit issues. Nina says it's very challenging to keep it restrained and refined and elegant, but she did. Zac says there's an issue that gold is old. Heidi concurs and says that a lot of young women are wearing gold and that gold is in. Plus the model's cleavage is insane, and Heidi is a sucker for a bombshell.
via mylifetime.com
Before the judges deliberate, they ask the designers pageantry questions such as "Why should come with you to Fashion Week?" and which two other designers they would take with them.
Candice and Kelly did not think that Ashley should go to Fashion Week with them, but Edmond says Ashley still has a lot of stories to tell on the runway.
Heidi vouches for Edmond during deliberation, but in the end they have to play it fair based on the now, not other past challenges.
Candice is in and will move onto Fashion Week — just as she predicted. They announce Kelly as the winner, now three times in a row. She will also receive 100 free nights at any Best Western in the world. Ashley is in, which leaves Edmond behind.
Edmond has tried out for every season of Project Runway since the first season came out in 2004, which is remarkable and truly sad that he didn't make it to the top three. Part of me wishes Tim would use his Tim Gunn save on Edmond because of his determination, but then that feels like a cop out on the tough decisions. There's still that possibility for four Fashion Week designers for next episode. It's been done before on Project Runway, but that's the reality of making it this far and losing makes the loss that much more bitter.
Project Runway airs every Thursday at 9 p.m. on Lifetime.
@mmfernandez_
mf736213@ohio.edu