Project Runway designers try and prepare for New York Fashion Week.
So they brought Edmond back. The "Tim Gunn Save" was more like the Tim Gunn Guilt because Tim's sole advice to Edmond was to "take risks" and the scoring for his risks ended up not working out.
The episode picks up after Edmond was eliminated, where all four sit backstage in silence. Tim comes in and wonders why there isn't more emotion in the room, adding that he feels numb about the elimination.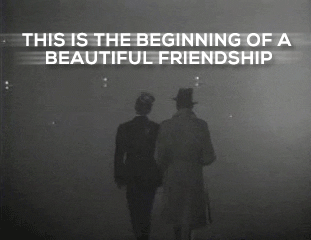 via giphy.com
Edmond stands up to go pack his scissors, but Tim stops him and says he's not going anywhere. Edmond is graced with the Tim Gunn Guilt — I mean save. Everyone goes to celebrate, and they all ride off into the sun together.
So now it's the final four. Heidi is very glad that Tim used his save, and Edmond realizes the stakes are much higher and he doesn't want this to be a waste of a save.
The designers now have seven weeks and $9,000 to create a 10-look collection.
Heidi Klum singles out Ashley to consider creating a plus-sized collection, and they will give her the models to support that. She'll be the first designer to create a plus-size collection.
Now comes the most cherished part of the season where Tim Gunn travels around the country to the designers' homes to see their collections and encroach on their adorable families.
Tim goes to San Diego to see Ashley, and Ashley's mom puts Tim to work right away to make tortillas.
Ashley's inspiration for her collection is a modernized Mexico City look in the 1950s. She hand-dyed fabrics pink and used a lot of lace. Tim wants her to use more jewel tones and less flower headdresses.  
While eating, Ashley's dad says he cried every night after she left for New York and that he's excited to run "through Central Park naked" when they go to New York Fashion Week.
Maria, Ashley's grandmother, said Ashley is one of those go-getters and is beautiful for inspiring millions of women. Tim is very excited that Ashley wants to use plus-size models and says his goodbyes. 
They cut to a scene with Candice on a beach in San Francisco with her mom, son and daughter. Candice reflects on how much Project Runway has helped her grow and how grateful she is to have a great relationship with her mom, who is a recovering drug addict, and thinks about how far they have fought to be here.
When Tim goes to see her collection, it's a lot of Candice. She says it's "Asian, Japanese, Chinese-inspired" because I didn't know you could just morph two separate cultures and call it a thing. There's red and black, and leather, wood and metal structures and the pieces are supposed to get more large until the big finale. Tim says the color looks like cheap drag and that Candice needs to tone it down. She's over-designing, and Tim urges her not to lose her critical eye.
However, Candice isn't really listening to what Tim has to say. All she is focusing on is how extravagant her collection has to be.
When Kelly arrived home in Springfield, Massachusetts, she didn't waste any time designing. Her collection is finished when Tim arrives. It's '70s meets Studio 54 streetwear. She has browns, turquoise, golds and fanny packs. The color palette is scary similar to the Tropics uniforms from Semi-Pro.
via makeagif.com
Each model will walk down the runway with over-the-ear headphones. Tim gets the concept, but he says the mesh and hosiery make it look cheap.
Kelly says she absolutely hates the word "cheap" and she's desperately trying to make this collection "sophisticated Kelly" as she puts it. Tim says she has a real show.
Tim goes out to dinner with Kelly, her father, aunt and cousin. The family expresses how Kelly's success has made them so happy, and that this is the best thing that's ever happened to her family.
Of course, they also went to the deli where Kelly works because she's talked about it a dozen times. The owner even made a special sandwich, the Big "Gunn" Milanese. It was really awkward because we all indirectly know Tim Gunn does not eat submarine sandwiches.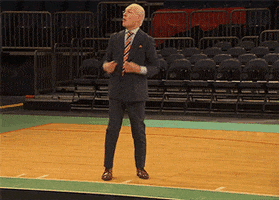 via giphy.com
In Atlanta, Edmond is anxious and nervous. He chose to focus on the glamorous and luxurious side of fashion instead of his normal sexy looks. It still baffles me that after all of these seasons of auditions, he's tried out 13 times.
He was nervous about his variation but then decides to depict an elegant woman only through cocktail pieces.
Some of the looks don't have any movement, and Tim is concerned about that. He has a gigantic black gown for the finale. Tim gives him a final word to focus on less architecture and more flow. Unlike Kelly, Edmond will have to execute one look a day until Fashion Week, which is a lot.
Edmond's parents meet Tim for dinner in some kind of hole-in-the-wall restaurant. Where Edmond comes from, he says, saying he wanted to be a designer was like saying you wanted to be an astronaut or the president of the United States. "It's off the wall," he says.
They are back in New York, and Tim gives them another challenge even though Fashion Week is days away. How else are they going to fulfill the 90-minute prime time slot? 
via lifetimetv.tumblr.com
The final four must design an 11th look. Some people have unfinished looks for the original 10 pieces let alone an additional outfit. Kelly is the only one finished with her 10. It's an opportunity to replace a look if they choose. They have $250 to shop at Mood Fabrics, but Edmond was $150 over budget at checkout. The runway show for the day will consist of the 11th look and two other pieces to show off to the judges.
Tim doesn't like Edmond's new piece. Ashley's new look is more form-fitting and is a beautiful eggplant color. She doesn't have any prints which is odd for Ashley, and the fit for her models is always a concern. Ashley is taking the risk and using all three flower headdresses on the models.
The opinions start flying, and no one helps anyone anymore.
Kelly sees a tiny stain on her dress and starts freaking out. Ashley offers her some stain remover. Kelly doesn't trust her but uses it anyway.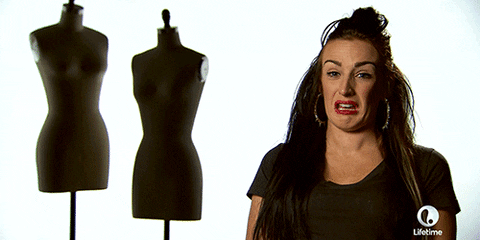 via giphy.com
Candice thinks Edmond's collection is striking. Ashley thinks Kelly's collection is crazy and incohesive, and that Candice's is overwhelming. Edmond says Ashley's headdresses are costume-y.
Edmond's 11th piece ended up being the most elegant, but Heidi is concerned that all of his pieces have ruffles because it doesn't have to be that way. All he has are dresses and gowns, and the judges are not impressed. The three looks to preview for the judges don't look like they are cohesive. Nina Garcia is surprised there is no sexiness, and even the hair and makeup is very lady-like. Nina wants more edge. (She wants him to literally bring the sexy back.) She's also concerned that Edmond is not being himself. Edmond is surprised about the reaction from the judges. 
via mylifetime.com
Heidi immediately says Kelly's fabric looks cheap, and it's not couture. She goes in for another blow and says it looks like Kelly made them in a day. Nina likes the versatility, but there's no sense of luxury.
via mylifetime.com
 Ashley thanks the judges for giving her the opportunity to create a plus-size collection. However, the pink crop top she made is not a good fit. Zac Posen says it's sloppy. Nina calls her concept adorable with a consistent message, but there is no attention to detail. However, Nina doesn't want the crown in every look. Heidi disagrees. 
via mylifetime.com
Candice's first piece is very gaudy. Sorry, but chopsticks in your hair and cherry blossom print don't make your outfit Asian. Zac takes out the claws calling her looks "costume town" and "witchy bitchy." They even referenced designer Alexander McQueen's style.
via mylifetime.com
Candice is blindsided, and you can tell she didn't have the heart to tell the judges about her final wow piece.
The critiques were rough, and it's anybody's game now.
Heidi says designers always change their minds and to still be excited about Fashion Week. She tells the designers not to panic and gives each of the designers a final piece of advice:
Edmond needs to sex it up

Kelly has to go for it and amp it up

Ashley needs to pay attention to detail and fit

Candice has to tone it down and work on her styling
The advice is great and all, but designers such as Edmond and Candice need major reconstruction for their looks and they have two days to do it. Although I don't want her to just win because she was given the opportunity to design for plus sized women, I really think Ashley has a really great chance of winning by the end of this episode because her storyline and color palette is so cohesive. The lace and the hand-dyed fabric is aesthetically pleasing. 
@mmfernandez_
mf736213@ohio.edu