Whether you have a valentine or not, go see these films in theater in February.
This Valentine's Day, your dinner and a movie date doesn't have to be limited to lovey-dovey rom-coms. This February gives you a chance to see some films that aren't that at all. So take your partner out and see some of these highly anticipated films being released this February.
1. Feb. 5: Pride and Prejudice and Zombies
A new twist on the Jane Austen classic Pride and Prejudice. Following the Black Death, many of the dead rose again and returned as zombies. While still falling in love, the women in the movie are trained to fight the brain-eating monsters. What an odd combination! via giphy.com
2. Feb. 5: The Choice
Based on the best-selling novel by Nicholas Sparks and one of my personal favorites from the author. The Choice tells the story of two neighbors — Gabby Holland (Teresa Palmer) and Travis Parker (Benjamin Walker). Initially, Gabby isn't fond of Travis and yells at him frequently, but she warms up to him. This movie is the perfect chick-flick for Valentine's Day. Just a little warning — it is based on a Nicholas Sparks book, so prepare to go on an emotional roller coaster.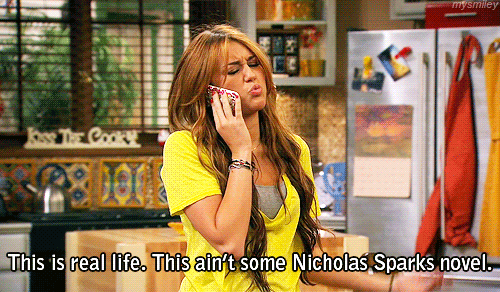 via giphy.com
3. Feb. 5: Hail, Caesar!
This movie from the Coen brothers follows a day in the life of Hollywood fixer, someone who deals with problems for a company or stars in the film industry, Eddie Mannix (Josh Brolin). This movie looks hilarious, and it has a cast that will blow your mind — George Clooney, Scarlett Johansson, Jonah Hill, Channing Tatum and Ralph Fiennes. This film is definitely worth checking out.
via giphy.com
4. Feb. 12: Deadpool
Ryan Reynolds stars as Wade Wilson, a former Special Forces operative. When he undergoes experimentation, he develops abnormally accelerated healing powers. He then adopts the name Deadpool. Deadpool is an anti-hero — which is what makes the movie appear to be full of humor.
via giphy.com  
5. Feb. 12: How To Be Single
If you're living the single life this Valentine's Day, grab a friend and head to the nearest movie theater and see How To Be Single. Instead of crying in your room, eating the box of chocolates you bought for yourself, you'll be laughing hysterically. Rebel Wilson — Fat Amy from Pitch Perfect — is in this movie, which is a good enough reason to go see it.
via giphy.com
Here is a full listing of movies scheduled to release this February.
@georgiadee35