It was pretty obvious when this season of The Bachelor started that Nick was going to be a pretty unconventional Bachelor. He was portrayed as a cocky villain during past appearances on The Bachelorette, and is probably the most controversial Bachelor in history. However, viewers probably did not understand how off-the-wall Nick would truly take a season of his own, and he is constantly changing the rules. Check out five times Nick wasn't like any other Bachelor during Monday's episode.
1. His motives are questionable
Once the truth about Liz and Nick's past came out on the show two episodes ago, the women start to get worried about what Nick wanted in a wife. That worry is only exemplified due to the fact that he continually keeps giving Corinne roses even though she is obviously not wife material.
"I'm not judging Corinne, I'm judging your actions," Vanessa said to Nick. "It was enough for me to question are you looking for a wife or are you looking for someone to f--k around with."
Yet, Corinne gets to stay this week and Christen and Brittany were sent home. It seems like Nick is looking for a younger woman to hook up with rather than a wife, and the women are starting to get mad.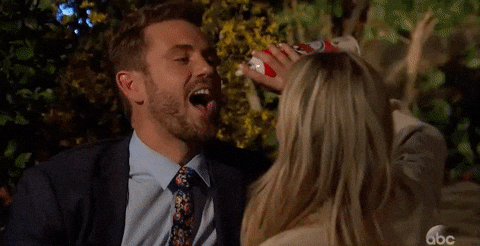 via giphy.com
2. He's too open in front of the other women
Throughout the season so far, Nick has been very open with the women. Sometimes, a little too much. He has no problem kissing the women in front of the other contestants, which makes me feel a little queasy.
It is also traditional for Bachelors to ask people out on dates through the infamous "date card." However, for the first one-on-one this week, Nick asks Danielle L. out in front of the entire group of women. What a slap in the face — but at least he isn't pretending that he's only dating one woman at a time.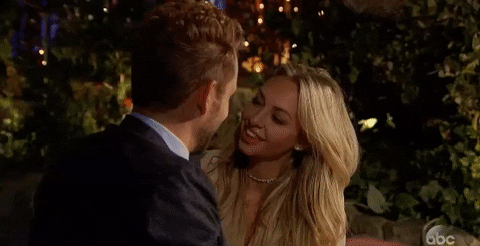 via giphy.com
3. Nick moves too fast
Usually at this point of the season, the Bachelor or Bachelorette takes the contestants on an exotic and romantic vacation. However, Nick decided it'd be a good idea to take the women to his hometown of Waukesha, Wisconsin. Let's remember this is only EPISODE FOUR. Also, a trip to "America's Dairyland" isn't exactly a romantic getaway. What's going to happen during the episode where they are actually supposed to go to his hometown? Either ABC ran out of money to send the group on a tropical beach vacation, or Nick is actually crazy.
During his one-on-one with Raven, Nick introduces his date to his little sister, Bella, and his parents at Bella's soccer game. Yeah, because every woman wants to be put on the spot with meeting a man's entire family on her first actual date with him.
"I really want another sister-in-law," Bella said to the camera, which was completely weird.
Raven was into it, but it did feel weird when they started making out at a roller skating rink in front of Bella. Barf.
4. The Bachelor picks boring dates
As if bringing them to Wisconsin wasn't bad enough, Nick literally takes the women on the group date to a dairy farm. Yeah, mud, cows and all. The women have to shovel manure and milk cows, and everyone is a trooper about it except Corinne of course.
"How could this date get any less romantic," Corinne said. "I want to be in a spa being fed a nice taco preferably chicken." For once, I actually agree with her.
5. He lingers too much on the past
During Danielle L.'s date, Nick awkwardly runs into one of his exes on the street. Honestly, it was probably staged, but Nick has no problem sitting down with both women and introducing them to one another.
"This is so trippy," Nick said about the situation. Yeah, how do you think Danielle L. feels!
Nick's openness doesn't stop there. Throughout the episode, he talks about all of his past relationships in the town and shows the women places where he had his first kiss. Dude, you have more than a dozen women with you in your hometown and you decide to talk about your high school relationships? Two words: move on.
via giphy.com
The Bachelor airs Mondays at 8 p.m. on ABC.
---