At this point in the season, Nick is starting to question what he's even doing on The Bachelor. He has crazy Corinne clouding his mind with whipped cream and bounce houses and he already introduced one of the women to his family members. Considering his past on the show, it's surprising he made it this far at all. However, it is obvious he's starting to really have a breakdown.
Nick is having what can only be described as an identity crisis. He has multiple women constantly telling him he's making the wrong decisions, and it's obvious he's not good at commitment. To fully understand Nick's breakdown, let's break down every aspect of the Feb. 6 episode. We can pay homage to Taylor and give him a full psychological evaluation.
1. Taylor tells Nick Corinne is lying to him
Honestly, if Nick didn't realize he was being lied to already, shame on him because Corinne says some wild stuff. Taylor brings it to his attention that he's been manipulated and lied to by Corinne, and Nick assures her that his decision to keep Corinne and send Taylor home was not based on the things Corinne told him.
"I still have things to figure out," Nick vaguely says, which probably can be translated to "I don't know if I actually want to get married." But, who can blame him? He's a good looking 36-year-old man and a B-list celebrity. He could be playing the field rather than deciding to settle down with a rando who actually is crazy enough to go on the show. Seriously, can someone say mid-season crisis?
2. Nick has a serious one-on-one date for once
Nick gave Kristina the opportunity to have her first one-on-one date this week, and she decides to tell Nick everything about her past. She tells Nick all about being poor child in Russia who had to eat lipstick to survive. She eventually left to the United States to live a better life outside of the orphanage she spent about eight years in. Kristina is not the typical Bachelor contestant, and Nick does not know how to handle it.
He ends up crying with Kristina as she's talking about her past, probably because he doesn't know how else to react to the news. He's more of a guy who likes to have on-the-surface conversations and act like they were deep. However, when Kristina actually tries to have a real conversation with him, all he can do is tear up. I think it makes him truly realize he isn't just dating random women on a TV show and it all ends once the season is over. Rather, he is dating real people and has to decide to spend the rest of his life with one of them, and all of their baggage. He is beginning to be in full-panic mode.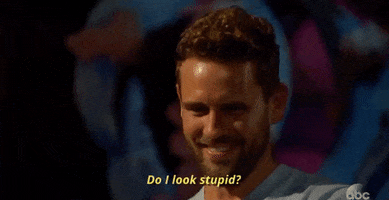 via giphy.com
3. Everyone cries about a volleyball game
During the group date, everyone does a bunch of shots and starts to play volleyball on a beach in Saint Thomas. To the average person, that sounds like a dream day. However, the contestants on The Bachelor are not having it.
All of the women basically start having a temper tantrum for no reason. Some give the excuse that Nick is paying too much attention to Corinne, while some people, like Jasmine, say Nick is not recognizing her worth. Everyone ends up quitting the volleyball game to sit on the beach and look at the ocean dramatically.
"I think this idea of trying to have a relaxing fun day kind of backfired on me," Nick said. He's probably just as confused as to why all of the women are mad at him, and it's driving him insane.
4. Jasmine literally tries to choke him out
Jasmine has totally had it. She's done with Nick not worshipping the ground she walks on, and she's going to say something about it. She sobs to him because she wants reassurance in their relationship. She assures him she's not here to go on group dates, but actually wants to find a husband. Then, she takes a total turn.
"I want to f--king choke you so bad," she says to him. The statement starts out angry, but quickly turns sexual. Overall, even Nick admits it's "awkward" and sends her home out of absolute terror. He probably should have given her the chance she deserved with a one-on-one, but it was time for her to leave. I mean, she did choke him out. Like, is everyone losing their minds?
via giphy.com
5. Nick takes two random women on a one-on-one — and sends them both home
Nick takes Danielle L. and Whitney (yes, even The Bachelor Instagram account had to remind everyone there is a Whitney on the show) on a two-on-one date, for some reason. Danielle L. has always seemed like a front-runner whereas Whitney was extremely forgettable. During the date, Nick stops his conversation with Danielle less than five minutes into it to send Whitney home. It is hard to understand why Nick even decided to bring the poor girl on the date in the first place. Like, is he crazy?
However, the real surprise is when he sends home Danielle L. He even admits to her during the date that he always saw himself ending up with her, and she tells him she's falling in love with him. However, she goes home anyways because Nick said he just "can't" give her the rose, which confuses everyone. It's starting to seem like Nick just wants to be single.
6. Nick says he might quit the show
After the Danielle L. fiasco, Nick storms into the house the remaining women are staying at, and boy is he crying. He tells the women about what happened on the two-on-one and expresses his worries about his future on the show.
"I really want this to work out but I want it to be real and I want it to be right," Nick said. "Right now I just feel terrified that that's not going to happen. I don't know if I can keep doing this."
Nick proceeds to storm out of the house right after saying that, leaving the women in total panic mode.
Nick needs to figure out what he wants. He has six totally different women in front of him, and he has no idea who he even wants to end up with. He won't quit the show, because he'd be a coward, but he needs an attitude adjustment. He should have kept Taylor around so she could help him work out his serious problems. Let's hope next week's episode brings some more crazy Corinne drama, because Bachelor fans are sick of seeing Nick cry.
The Bachelor airs Mondays at 8 p.m. on ABC.