Bring some nightmarish stories from your hometown job back to Athens. 
As many Bobcats returned home for winter break, they used the time as relaxation with family and old friends.
Many also returned to their hometown high school jobs to make some extra bank for the upcoming #Fest season. Here are eight things that you may have adored or abhorred during the holiday season of retail and rude people:
1. Small talk
There's one thing that you didn't miss about your hometown job and that's conversing with complete strangers. By the end of break you may have gotten used to saying "Hi, how are you today?" 300 billion times and always getting the answer of "good" or "I'm well."
via hellogiggles.com
2. "Happy holidays"
That wonderful phrase encapsulates them all and is an easy roll off the tongue at the end of a transaction. Some customers may be offended by that, obnoxiously making the point to say "Merry Christmas" and looking as though they are screaming through their eyes for you to say "Merry Christmas" back. Throwback to the Starbucks red cup dispute.
Somehow though, on Jan. 2, the phrase already becomes irrelevant, and you are forced back to the simple "Take care," the cryptic "Have a good one" or the classic halfhearted "Have a nice day."
via tusconweekly.com
3. The co-worker you had a thing with
You know you missed that person, whether it be the way he or she said, "Paper or plastic?" or when you decided to ask him or her to your senior prom and that person actually went with you even though he or she was 21. Either way, one minute that person is telling you your smile is great and then act like you don't even exist. If you find yourself slipping away to what once was, please do yourself a favor and don't. The only person that's worse than the one you hate is the one you like. Try not to get caught up in history — it's history for a reason.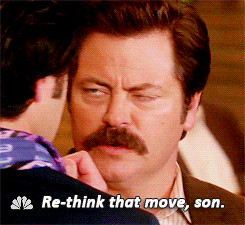 via giphy.com
4. The regulars
Those customers are pretty great. It's a weird relationship, which are equivalent to the types known as only "in-school" friends. They can be really awesome though, checking up on you, remembering your name or details from a small chat you had with them. They ask you about how you like school, how long you will be in town, and then you ask about their cats. They are friendly and truly enjoy seeing you. You know their orders right down to the mayonnaise on the side, and your day somehow gets a little better after seeing them. Even if they are a bit different, you somehow enjoy dealing with them because it's now a rarely seen spectacle — almost a treat if you will.
via wifflegif.com
5. The creepy regulars
As much as you hate to think of it, every store has its own set of weird weekly visitors. Like that one guy all your co-workers nicknamed "Uncle Nutzo" who talks to you about how he doesn't shower because the Communists installed hearing devices in the drain and how he likes his items put into double bags. He buys the same exact groceries every day, then proceeds to watch you eerily from a distant cafe table while you check out other customers. There's also that one lady who wears sunglasses and a babushka and tells you that someone has stolen all of the ham out of the split pea soup so she did not buy it. Yeah, that's the kind.
via gifsoup.com
6. Your sanity
You signed up for holiday overtime hours? Be prepared to surrender your sanity and make sure you wear a belt to work because it is the best/worst kind of chaos. You heard "White Christmas" for the 11th time today and you may have become hypnotized by the process of scanning so many items. Still, you smile through the pain because it's the holiday season and that also compromises your sweet innocence, patience and mental health. Be ready. They're coming.
via buzzfeed.com
7. Your uniform
That shiny clean name tag on your left collar, those glamorous pleather work shoes, that winning smile: all are part of your daily façade in the workforce. You love it because you don't have to choose anything to wear, but you're still stuck with a mediocre button-down shirt, khakis and an artificial grin.
via wifflegif.com
8. Cash, money, bank
More of a love than hate really, but the hard part is saving it. After all your grief and long hours of menial labor, makin' that bank will be well worth it. When you are on Court Street next weekend, you will have plenty of stories to tell and the money to make the night last.
via popsugar.com
@mmhicks19
mh912314@ohio.edu